Dominica Citizenship By Investment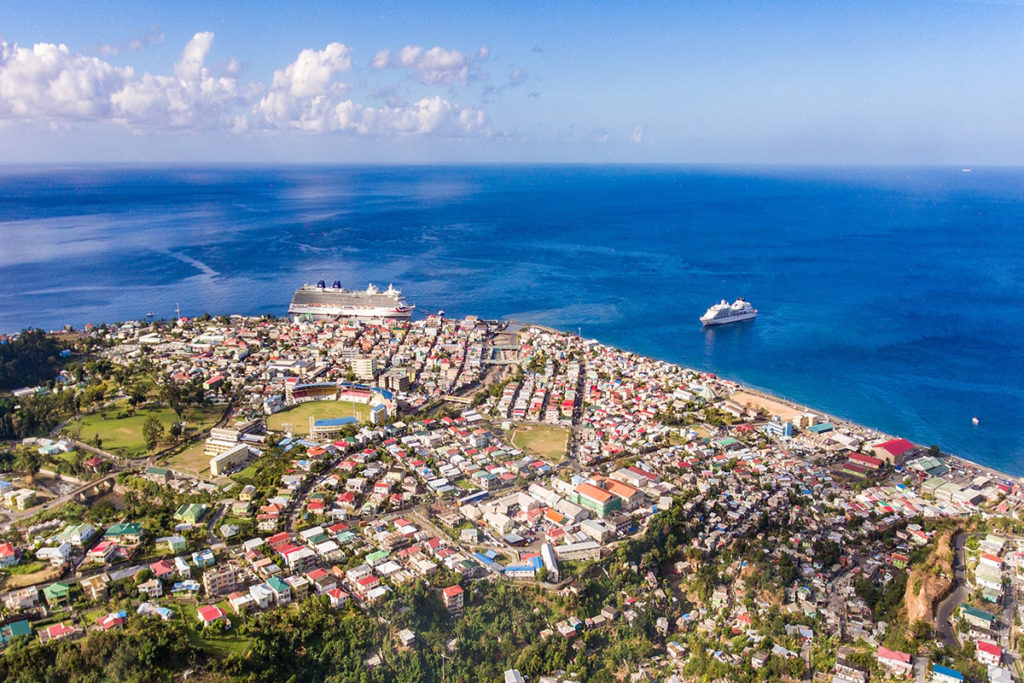 ×
Real Estate Investment

220,000 USD

Non Refundable Donation

100,000 USD

Mix Investment

-

Time to get the Residency

-

Time to get the Passport

4 - 6 Months

Visa Free Countries

140 Countries
Dominica is located in the Caribbean islands, founded by Christopher Columbus in 1493 and its capital is Roseau. The island faces the Caribbean Sea in the west and the Atlantic Ocean in its east. It is neighbored by the French island of Guadeloupe to the north and Martinique to the South.
Dominica in recent years is becoming a major international financial center with large sectors such as offshore banking, payment processing companies, and general corporate activities.
Dominica's citizenship by investment program has a long and distinguished history which was established in 1993 and is enshrined in statute. Subject to fulfilling due diligence requirements, investors in approved real estate projects are offered the opportunity to become citizens of the Commonwealth of Dominica.
Requirements to be Eligible to Apply for Dominica Citizenship (Passport)
Investors must have a minimum age of 18,
Dependent Children between age of 18-30 (students substantially supported by the Main Applicant and/or Spouse),
Unmarried Daughter of Main Applicant under the age of 25 (substantially supported by the Main Applicant and/or Spouse),
Children of Main Applicant & spouse above the age of 18 physically or mentally Challenged (substantially supported by the Applicant and/or Spouse),
Investors can include the parents and parents-in-law above the age of 65 (under the support of the Main Applicant or Spouse),
The main applicant and dependents must have a worldwide clean criminal record.
Dominica rewards the investors in 2020
Foreign investors are invited to apply for Dominica's Citizenship by Investment Program with their families. The process is fast and citizenship will be rewarded to the applicants within four months.
In return, economic citizens can live, work, and study in Dominica and access its healthcare and education systems. Extensive visa-free travel by Dominican passport is another benefit of this program.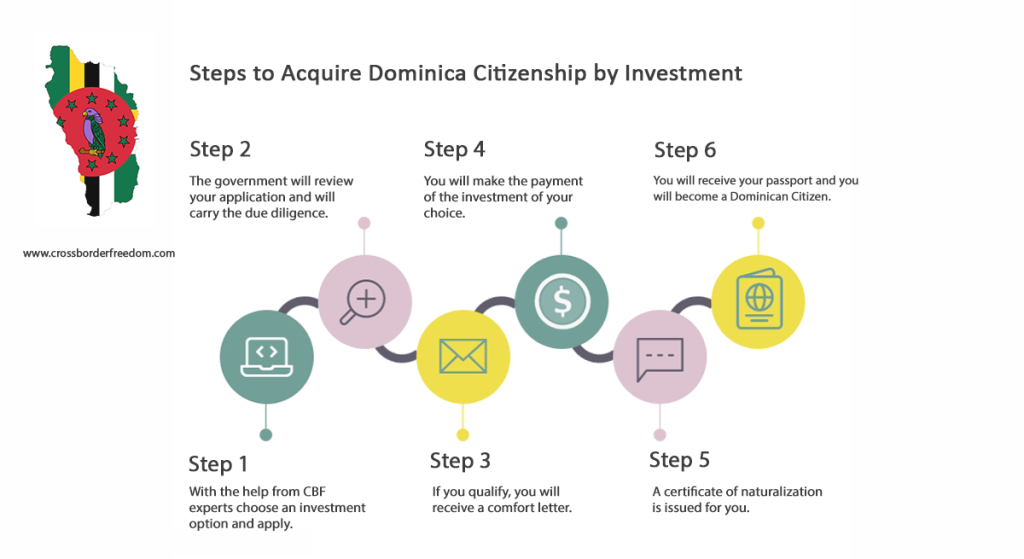 Investment Options for Dominica Citizenship and Dominica Passport
Option 1 – Non- Refundable Donation to the Economic Diversification Fund (EDF)
100,000 USD – Single Applicant,
150,000 USD – Main Applicant and Spouse,
175,000 USD – Main Applicant and up to 3 Dependents,
50,000 USD – Any additional dependent above 18 years,
25,000 USD –Any additional dependent under 18 years.
Additional Governmental Expenses:
Due Diligence
7,500 USD – Main Applicant,
4,000 USD – Spouse,
4,000 USD – Dependent above 16.
1,000 USD – Processing Fee.
250 USD – Certificate of Naturalization Fee per Person.
1200 USD – Passport Fee per Person.
Option 2 – Real Estate Investment:
Investing in an authorized real estate to the minimum value of USD 220,000 and keeping it for 4 years.
Additional Governmental Expenses:
Government Fee
25,000 USD – Main applicant,
35,000 USD – Main Applicant and up to 3 Dependents,
50,000 USD – Main Applicant and up to 5 Dependents,
25,000 USD – Any additional dependent.
Due Diligence
7,500 USD – Main Applicant,
4,000 USD – Spouse,
4,000 USD – Dependent above 16.
1,000 USD – Processing Fee.
250 USD – Certificate of Naturalization Fee per Person.
1200 USD – Passport Fee per Person.
Option 3 – Entrepreneur Visa Program:
Invest a minimum of 50,000 USD in an existing government-approved company through the Investment Fund.
Invest a minimum of 100,000 USD in a new startup business locally registered in the Commonwealth of Dominica employing at least 3 full-time employees.
Invest in a government-approved public sector or private sector venture as an equity investor. (The minimum investment, required will be announced soon).
Requirements:
Make a deposit of a minimum amount of USD 100,000 in a local financial institution (please note that the funds may be used from Dominica and depleted during the residency period);
Spend a minimum of 90 days out of 365 days per year in the country.
*** The client applying for the Entrepreneur Visa receives a 2-year residency permit, which will be issued within 45 days of approval, and can apply for naturalization after 2 years if met all the criteria.
"The latest updates of Dominica citizenship through entrepreneur visa will be announced subsequently."
Major Changes to Dominica Citizenship Laws In 2022
According to the new law published on August 18, 2022, the concept of dependents is redefined and limited to the following. The Government of Dominica has announced some changes to the Citizenship by Investment (CBI) program amounts that will take effect in mid-September 2022. In this article, we will take a quick look at these recent developments. The new items are as follows:
Changes regarding the age, dependents and their number in the file, which includes the spouse of the main applicant, the children under 18 of the main applicant and the spouse, having a maximum age of 18-30 years for dependent children with special conditions, the unmarried daughter of the main applicant below who is 25 years old with special conditions, dependent children over 18 years old of the main applicant and spouse with physical or mental problems, parents or grandparents over 65 years old with special conditions of the main applicant or spouse.
Changes regarding government costs through investment in any of the two citizenship methods: Donation of a non-refundable to the Economic Development Fund (EDF) and reforms of government fees payable to government approved properties/projects.
All agents must submit with both the electronic and hard copy application a world check/pre-screen due diligence of their applicant(s) from a reputable due diligence company.
Applicants who have been denied a visa from jurisdictions with whom the Commonwealth of Dominica has a visa waiver agreement (such as the Schengen Region and the United Kingdom) should refrain from applying to the program.
The applicant is mandated to use the escrow accounts established at the National Bank of Dominica of which the Government is a signatory, as well as to provide the proof of payment for transfers made to the Escrow Account and the Economic Diversification Fund Account (as applicable).
The investor is required to provide proof of the receipt of funds for the full investment and remitter details to match him. In the event of a third party remitting for the applicant, an explanation must be provided and the KYC procedures must be performed.
According to the CBI Index, published by a well-known magazine, Dominica is ranked the best country to obtain citizenship by investment for five consecutive years.
Benefits of Applying for A Dominica Passport
Fast Processing time between 4-6 months,
Visa-free travel to over 140 countries, including the United Kingdom, Russia, Hong Kong, the European Schengen States, and newly added Brazil and Azerbaijan,
Non-mandatory business, source of Income, education, English language proficiency proof, and interview,
Non-mandatory minimum reside,
Permitted dual citizenship,
Rewarding second citizenship to the adult children, parents, grandparents, and siblings,
Life-time citizenship,
Minimal taxation _ no wealth, gift, inheritance, foreign income or capital gains tax,
Secrecy of bank's system,
Non-mandatory conscription.
CBF's highly experienced specialists offer you professional help on different Investments and how to obtain Dominica Citizenship and Passport by Investment. We customize the best solution for you and your family based on your specific situation and requirement. To get started please contact one of our consultants in the U.A.E, Denmark, or Canada, and we will do our utmost to guide you through your Investment and your Dominica CBI process.
Ask your question