Manitoba Provincial Nominee Program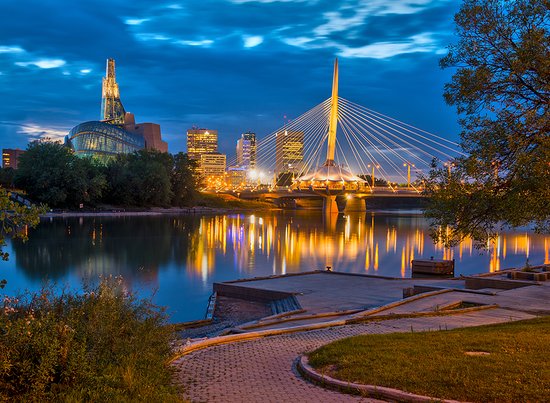 ×
Real Estate Investment

-

Non Refundable Donation

-

Mix Investment

-

Time to get the Residency

18 - 36 Months

Time to get the Passport

After Residing 3 years in the Country

Visa Free Countries

165 Countries
Canada is among top 10 economies of the world and is an appealing business hub. Given the many benefits of this vast country, including top employment opportunities, strong economy, low unemployment rate and beneficial investment options, it is the most sought-for immigration destination.
Canada is offering various immigration streams for skilled investors and talented individuals. Each province is offering its own attractive provincial programs.
Manitoba is bordered by the provinces of Ontario to the east and Saskatchewan to the west. The top tourist activities in the province include watching whales, hiking, horseback riding, and camping in more than 50 national and provincial parks. Manitoba has over 100,000 lakes, rivers and streams. It has more water than can be fished in a lifetime!
Manitoba has rich natural resources. Agriculture is one of Manitoba's most important industries and sources of income. Manitoba dominates Canadian production of flaxseed, sunflower seeds, buckwheat and field peas.
Manufacturing is a major sector of the Manitoba economy. The principal industries are food, machinery, metal fabricating, transportation equipment and clothing.
Requirements to be eligible to apply for Manitoba Provincial Nominee Program
Have the skills, education and work experience to contribute to the economy of Manitoba,
Intend to live in the province,
Have no medical issue which is expensive for the government,
Having clean Criminal Records.
Manitoba Provincial Nominee Programs
The Manitoba Provincial Nominee Program (MPNP) is looking for recent graduates, skilled workers, businesspeople and their families who intend and have the ability to successfully settle in Manitoba as permanent residents.
 Business Investor Stream
Through this stream, qualified international business investors and entrepreneurs who have the intention and ability to start or purchase businesses in Manitoba will be nominated. Good news is that the interested applicants will no longer be obliged to submit a deposit of $100,000 to the Manitoba government.
There are two pathways:
The Entrepreneur Pathway suitable for investors willing to open a business in Manitoba; and
The Farm Investor Pathway for applicants planning to establish and operate a farm in rural Manitoba.
The Entrepreneur Pathway
The Criteria to be eligible under this category follow:
Business Experience:

Minimum of three years of full time work experience in the past five years. The applicant must have been either an active business owner or working in a senior management role of a successful business.
Higher points will awarded to Business owners in comparison to senior managers.
To be eligible as a Business owner, the applicant must have at least 33% ownership.

Official Languages Proficiency: Minimum CLB 5
Education: Minimum Canadian high school certificate equivalent.
Age There is no limitation although ranking points are allocated to candidates 25 to 49 years of age.
Business Investment:

Minimum required investment is $250,000 for businesses located in the Manitoba Capital Region.
Minimum required investment is $150,000 if a business is located outside of the Manitoba Capital Region.
The Investment must be made in an eligible business according to the MPNP.
The business must create at least one job for a Canadian Citizen or a Permanent Resident in Manitoba (it does not include the owners of the business and/or their close relatives).

Business Research Visit:

A Business Plan is mandatory part of the application.
The business research visit, allows the investor to do extensive research of their future business investment. It must be conducted no more than one year before the submission of the EOI.

Adaptability: Extra points will be allocated to the applicant if:
Applicant's spouse has CLB 5 or higher;
Applicant and his spouse have CLB 5 or higher in the Second Official Language;
Applicant and his spouse or common-law partner have a close relative currently living in Manitoba for more than one year;
Applicant's child is enrolled in an accredited Manitoba educational institution and is actively pursuing academic training on a full-time basis for at least six months prior to the date of submission of EOI; and/or
Applicant and his spouse or common-law partner have completed a program of full-time study for at least one year at a post-secondary institution in Manitoba. OR
Applicant and his spouse or common-law partner have completed at least six months of continuous full time employment in Manitoba.
Net Worth:
Minimum of $500,000,
Applicant's personal net worth should be verified by a third-party supplier approved by the MPNP. A verification report must be submitted to the MPNP.
Business Performance Agreement: After application's approval, a Business Performance Agreement (BPA) must be signed.
Farm Investor Pathway
Agri-business investor must meet below criteria:
Farm Business Experience: Minimum of three years farm ownership and operation experience supported by documents.
Official Languages Proficiency: If the applicant is invited to attend a FIP interview, he will be required to handle the interview in either French or English. Therefore, the Farm Investor must have knowledge of either of Canada's two official languages.
Farm Business Investment:

At least $300,000. The applicant is expected to establish a farming business in rural Manitoba.
Farm business investments must be in eligible tangible assets as defined by the MPNP.
A farm business plan is an integral part of the application.

Farm Business Research Visit: a Farm Business Research Visit to Manitoba should be conducted.
Farm Business Activities:
A farm business entity must have ongoing and recurring business activities in rural Manitoba.
The investor is required to live on the farm and actively participate in the management of the farm business on an ongoing basis.
The farm business must be economically viable and should be in active primary agriculture production.
The applicant must conduct value-added farm business activities in Manitoba.
Economic Establishment Adaptability: The investor should demonstrate adaptability, relating to practical farming skills, technical knowledge and experience in farming practices.
Net Worth:

At least $500,000,
The MPNP may request for verification of applicant's net worth and financial information by a verified third-party service provider.
Benefits of Immigration to Canada
Visa – Free travel to over than 160 countries,
A beautiful and safe country to live,
Free education for Children,
Free Healthcare and Retirement System,
Government Guaranteed,
Stable Political Climate,
Stable Financial Freedom,
Multicultural Country.
CBF's high experienced specialists offer you professional help on different Investments and how to immigrate to Canada under Provincial Nominee Programs (PNPs). We customize the best solution for you and your family based on your specific situation and requirement. To get started please contact one of our consultants in U.A.E, Denmark or Canada, and we will do our utmost to guide you through your Investment and your Canada PNP process.
Ask your question