Vanuatu Weakens to Compete with Dominica's CBI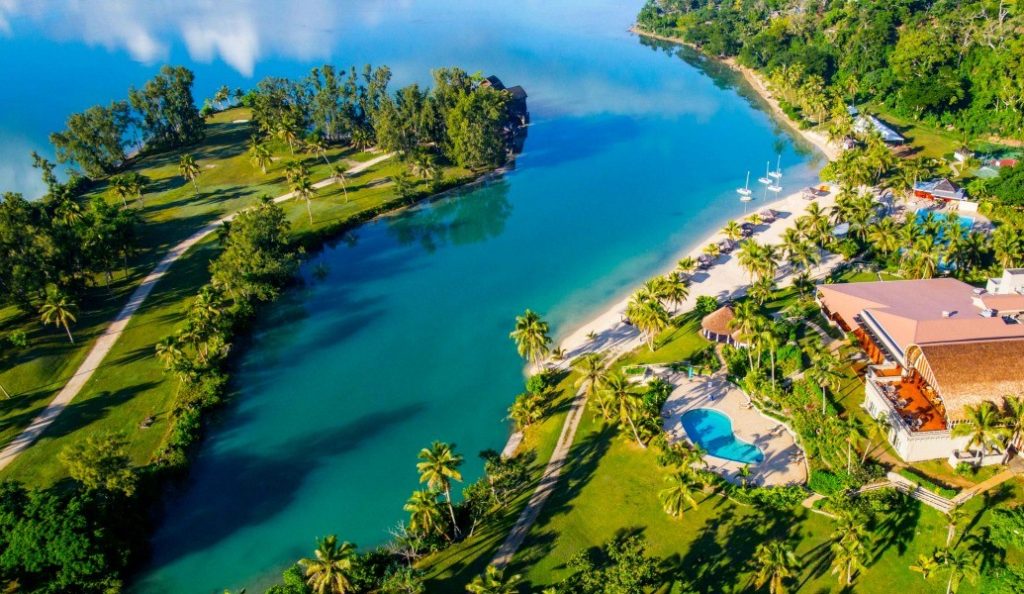 Earlier this year, the European Union announced that they would partially suspend its visa waiver agreement with Vanuatu. Vanuatu (ni-Vanuatu) passport holders were allowed to visit the Schengen area without a visa. Although, stakeholders had hoped to avert this disaster through bilateral dialogue, on May 4, the suspension was finally imposed.
In its first six-month economic report since the suspension of visa waivers Vanuatu Department of Finance and Treasury (DoFT)  has revealed figures that show the impact of investment-related income on citizenship has been excessive and immediate:
Vanuatu's CBI program raised a total of VUV 2.07 billion (Vanuatu currency equivalent to about USD 16.4 million) in the country's revenue in the second quarter of the year, 34% less than the same quarter last year and the lowest quarterly figure since 2018.
DoFT also reported that the Vanuatu Development Support Program (VDSP) and the Vanuatu Contribution Program (VCP) together raised a total of VT 4,705.9 million, 48.7% of the VT 9,659.6 million budget target; 16.8% down from the figure of VT 5,654.2 million that was collected until June last year.
It must be noted that Vanuatu citizenship by investment program was a "major revenue-generating initiative" for the government over the past five years". DOFT warned that given some of the main hurdles the program has faced so far, it is unlikely to continue to be so for 2022″.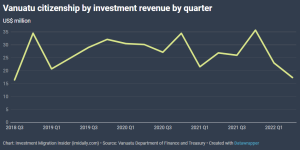 DOFT has cited three specific reasons for the decline in CBI revenue:
1- Termination of the correspondent banking relationship in 2021,
2- The recent suspension of the EU visa waiver program, and
3- The non-continuation of the "Change of Name policy" under Civil Registry Act.
These three changes are currently among the major policy changes that have had a significant impact on the amount of revenue collected and may continue to do so. The new real estate option (REO) program is unlikely to make up for the revenue shortfall either, given its relatively low direct revenue potential.
The decline in revenue has also caused the government's share of CBI revenue to fall below 30% (28.89%) in the second quarter, the first time it has happened since 2018.
CBI revenues are likely to decline further in Vanuatu considering that the suspension has only been in place since May 4, two-thirds of the way through the second quarter, and that citizenship applications typically take more than three months to be processed. The true extent of the impact of the suspension on government revenue in Vanuatu will only be revealed when the third quarter reports are released.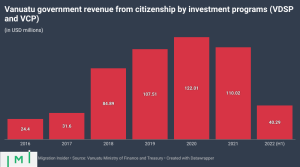 Putting it altogether, Vanuatu, which used to be one of the most popular and easy destinations for investors in second passport programs, will continue to fall to the lower ranks, and the top positions will still be held by stronger programs such as Dominica and other countries in the Caribbean. Dominica has been selected the best citizenship by investment program in 2022 by the prestigious Professional Wealth Management Journal PWM, followed by Grenada in second place and Saint Lucia in third place. Vanuatu, coming in fourth place in 2021, has dropped two places in the 2022 ranking to sixth place.
Dominica has made significant progress in improving its CBI program and passport strength and has managed to score well in the following areas:
Low-cost and affordable program for families,
New visa waiver to China,
Upgrading security standards by applying Biometric passports.
Attractive real estate market because of investing in hotels options,
Excellent use of CBI funds in sustainable development,
Strong due diligence,
Highly efficient consular assistance abroad for its citizens.
Unfortunately, good opportunities do not last forever, and the opportunity to get the exceptional Dominica passport has undergone some important changes, among which we can point out the change in the rules for adding parents and siblings to the main applicant's file, to be implemented mid-September 2022. Therefore, there is very little time left for the applicants to submit their application before the amendments are officially implemented.
In addition, if you want to get a second passport by investment, we advise you to seek consult from experienced and trusted advisors and do not fall for advertisements offering lower amounts than the tariffs announced by the government and do not risk your investment,  portfolio and future citizenship plans.
For more detailed information on the requirements for obtaining Citizenship by Investment, please contact one of our advisers in the UAE, Denmark, or Canada, we will accompany you and your family until you obtain your Second Passport.
If you have any questions or comments about Citizenship by Investment, you can share them with us in the comments section.