Living in Grenada, the Caribbean Heavenly Island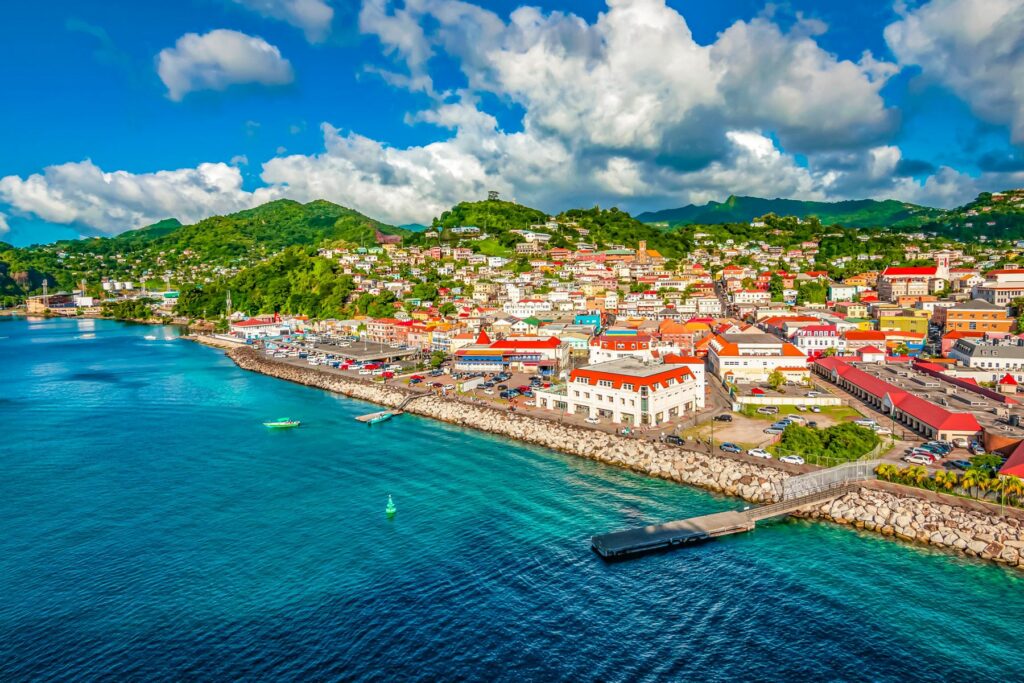 As an investor, many things are important to you when it comes to invest in a foreign country in order to gain a second citizenship. Things such as the mandatory amount of investment, the passport strength in terms of freedom of travel, the costs of living, facilities and how efficient the education and health system is. Grenada is one of the destinations that attracted attentions in recent years.
Island of spice or Grenada is located in the Caribbean Sea. It is famous for spice trading business, breathtaking natural beauties and stunning beaches. The population of the country is almost 112,000.
Grenada Citizenship program is open to most of the nations, while it offers freedom of travel to more than 130 countries. This program allows you to include children, parents and siblings as dependents. The Grenadian passport is the 35th strongest passport in the world.
Options to invest and gain Grenada Citizenship by Investment
Option 1 – Non Refundable Donation to the National Transformation Fund (NTF)
150,000 USD – Single Applicants,
200,000 USD – Applicant with spouse and 2 children.
Option 2 – Real Estate Investment:
Investment in an authorized real estate project for 4 years and with the minimum value of USD 220,000.
It is worth mentioning that in addition to the above investment amounts, additional costs are to be paid including: government fee, due diligence, processing fee, fee of oath of Allegiance and passport issuance, and bank fees. For information on these costs, you can visit the Grenada Citizenship by Investment Program page.
Why choosing Grenada citizenship program?
Advantages of Grenada Passport:
The fast process of obtaining Citizenship between 3 and 6 months,
Travelling without visa to more than 130 countries, such as the European Schengen states, the United Kingdom, china and Singapore,
Dual citizenship is allowed,
The citizenship is lifetime,
There is no foreign income, wealth, gift, inheritance and capital gain tax.
Vital information about this living in Grenada
1- Costs of living in Grenada are including:
Groceries: the costs of groceries are not high: about $3.7 for a dozen of Eggs, between $1 and $5 for a Kilogram of vegetables and $1.7 for one-liter Milk.
Transportation: For a local minibus between $4 and $2, for a gallon of petrol $15.95 and for vehicle registration, an annual amount of $300 must be paid. Grenada has an international airport, located in the capital of Grenada, Saint George's.
Utilities: The costs of basic utilities including electricity, heating, cooling, water and garbage reach $110 monthly. Fast Internet will demand a payment of $65 monthly.
Accommodation: there are several reasons why buying a property in Grenada makes sense: booming real estate market, reasonable prices and wide range of properties. Depending on the type, size and location of the real estate, the prices vary from $160,000 to $7,000,000 on average.
Entertainment: There is no need to pay to go hiking, visit waterfalls or go to the beach, they are available free of charge. But if you want to eat out or drink a coffee, you need to pay between $8 and $50 depending on the restaurant or the meal you want to eat.
Education: the government cares a lot about education in Grenada, the illiteracy rate in this country is very low about 1.4%. The education fees vary according to the major, type of university and the degree. The tuition fees will be about $15,000 to $25,000 per semester.
2- Healthcare
Grenada has one of the best healthcare systems in the Caribbean, the Ministry of Health is responsible for the provision of health services and there are almost thirty medical sections, six health centers, and eight hospitals (four public and four private) in the country.
3- Climate
Average temperature ranges from 24C to 30C, the coldest weather is between November and February, the driest season is between January and May and the rainy season is from June to December.
4- Grenada Currency
The Eastern Caribbean dollar is the currency used locally.  The exchange rate has remained steady during several years, EC$2.67 worth US$1.
5- Grenada Language
The Caribbean island of Grenada is an English-speaking country, with several local dialectics.
Grenada is among the fastest-growing economies in the Caribbean region. The average 5 per cent growth has been recorded since 2013. The economy of the island is powered mostly by tourism, agriculture, St. George's University School of Medicine, and foreign and local investment.
For more information, please contact one of our advisors in UAE, Canada or Denmark, and we will do our utmost to guide you through your investment and Grenada Citizenship process.
Do not hesitate to rely your comments below, if you have any questions or experiences relating to the process of investment in Grenada.