Acceptance Letter Issued for another Applicant of Dominica Citizenship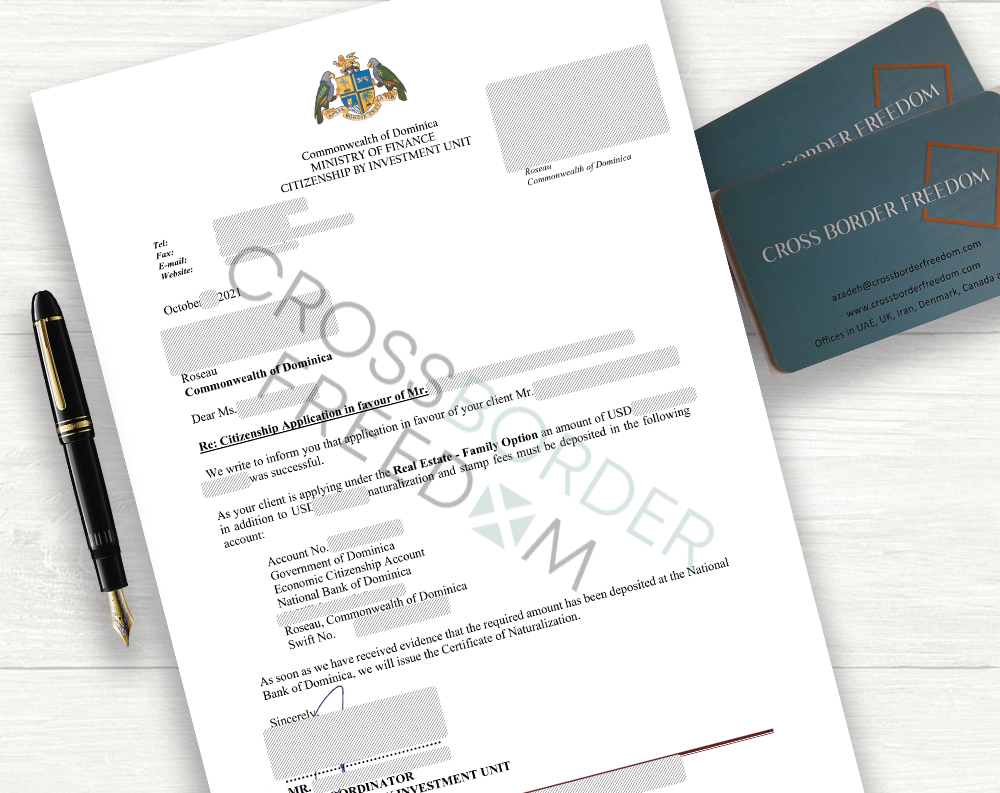 This client had applied for Dominica Citizenship by Investment for himself and his family and his letter of acceptance was issued in October 2021.
All Family Members Now Qualify for Dominica Citizenship
 The Government of Dominica has extended the definition of 'dependent' under the Citizenship by Investment Program. Family Reunification has been eased up through new changes to Dominica Citizenship by Investment Program. The changes now make it possible for non-qualifying dependents to be added to the application of the main applicant.
According to the new rules, it is sufficient to prove that the main applicant or their spouse supports the child. Similarly, parents and grandparents of the main applicant or their spouse do not have to show they live with the main applicant anymore. For the parent or grandparent to be eligible dependents, it is enough to prove they receive support from the applicant or their spouse.
In another development, Dominica Government introduced a new beneficiary 'sibling' category. The siblings who are 18 or older, single, and childless now qualify for citizenship. They can be related either to the main applicant or their spouse. The new changes also allow newborn children and newly-married spouses to become citizens of Dominica – even after the main applicant receives citizenship.
Benefits of Obtaining Dominica Passport
Fast Processing time between 4-6 months,
Visa-free travel to over 140 countries, including the United Kingdom, Russia, Hong Kong, the European Schengen States, and newly added Brazil and Azerbaijan,
Non-obligatory business, source of Income, education, English language proficiency proof, and interview,
Dual citizenship permitted,
Obtaining passports for the whole family,
Life-time citizenship,
Minimal taxation – no wealth, gift, inheritance, foreign income or capital gains tax,
Secrecy of banking system,
Non-mandatory conscription,
Various investment opportunities: Donation to the Economic Diversification Fund (Starting from $100,000) and investing in Real Estate (Starting from $200,000),
The opportunity to live, work, study and trade freely in the Caribbean,
No need to travel or reside in Dominica.
For more detailed information on the requirements for obtaining Dominica Citizenship by Investment, please contact one of our advisers in the UAE, Denmark, or Canada, we will accompany you and your family until you obtain Dominica Passport.
If you have any questions or comments about Dominica Citizenship by Investment, you can share them with us in the comments section.