Acceptance Letter Issued for Applicant of Dominica Citizenship in October 2021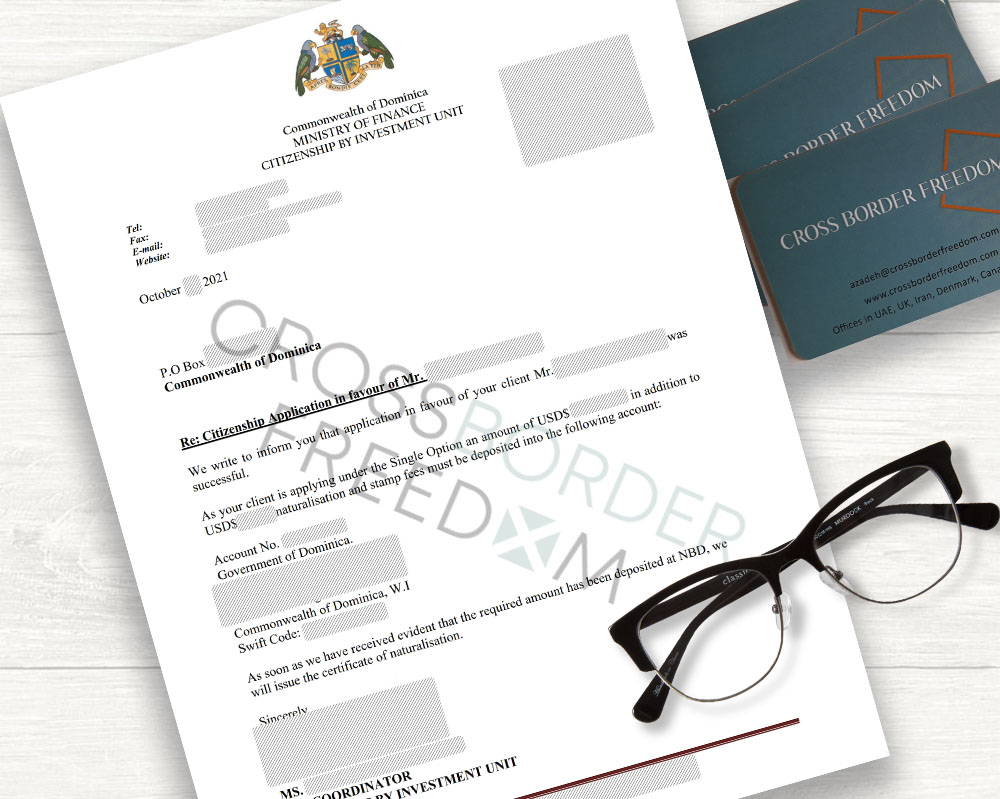 This client had applied for Dominica Citizenship by contributing a non-refundable donation to the government and his letter of acceptance was issued in October 2021.
About Dominica Economic Diversification Fund
The Economic Diversification Fund (EDF) is a Dominican Government program supporting socio-economic initiatives with the aim of making national developments. This was established through the country's Citizenship by Investment Program as part of a national capital mobilization portfolio. Applicants can acquire economic citizenship to Dominica by making a financial contribution to its EDF.
All capital generated for the EDF fund goes towards improving projects in the public and private sectors which need financial support. These include building schools, renovating hospitals, and creation of a national sports stadium, plus a variety of other undertakings across numerous industries such as tourism, information technology, and agriculture.
To qualify for Dominican citizenship through the Citizenship by Investment program, applicants must make a non-refundable contribution to the EDF.
The cost of your contribution will be determined by the number of dependents included in the application—this refers to anyone who relies on you as a primary source of income, including children, spouses, parents, or other family members who may also qualify.
In today's globalized world, tens of millions of people are dual citizens. Quite simply, this means they are citizens of two countries at the same time, a status that can confer certain benefits, from greater international mobility to improved economic opportunities.
Dual citizenship is usually gained through familial ties, marriage, or naturalization, but it is still possible to get without following these traditional pathways. Most notably through a country's citizenship by investment (CBI) program.
To apply for the Dominica CBI scheme by making a significant contribution to the country's Economic Diversification Fund or purchasing pre-approved Dominican real estate, applicants can obtain a Dominican passport and enjoy all advantages of dual citizenship in Dominica including:
Improved international mobility and via-fee travel,
Economic opportunities,
Family reunification,
Personal and professional safety,
Lifestyle advantages.
For more detailed information on the requirements for obtaining Dominica Citizenship by Investment, please contact one of our advisers in the UAE, Denmark, or Canada, we will accompany you and your family until you obtain Dominica Passport.
If you have any questions or comments about Dominica Citizenship by Investment, you can share them with us in the comments section.