Acceptance Letter Issued under Dominica CBI Program for another Respected CBF Client with his family in January 2021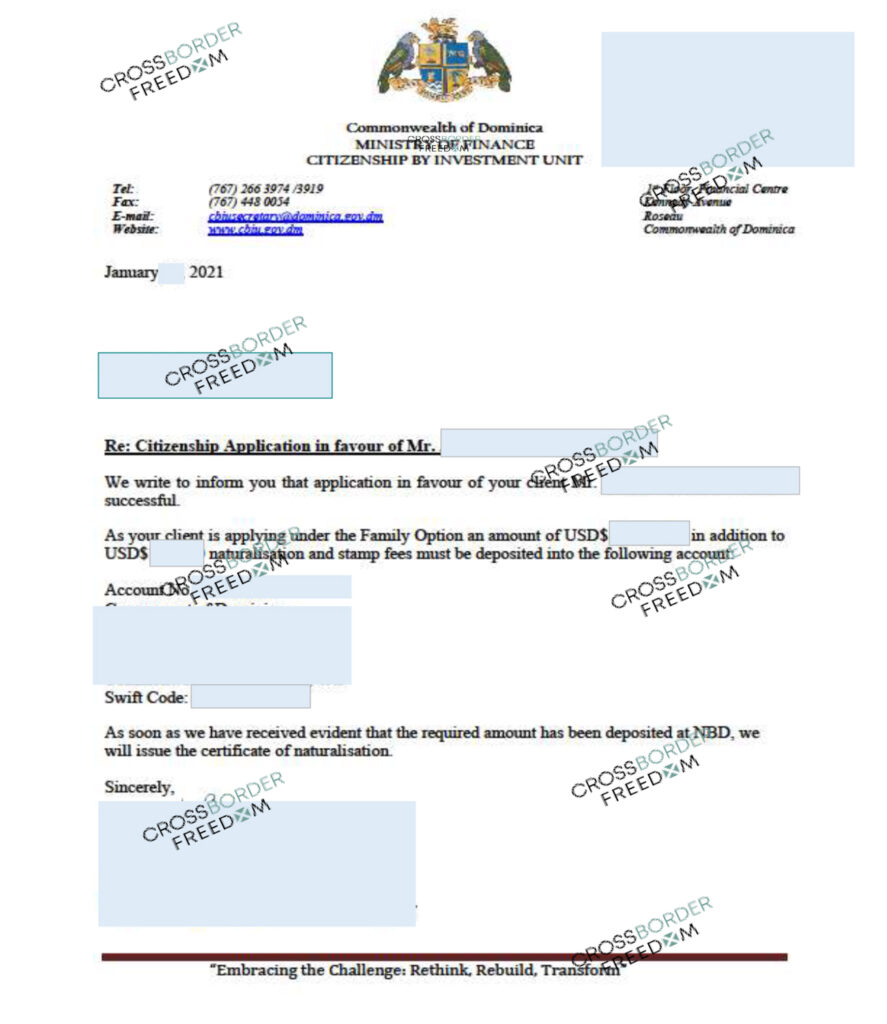 The case of  Dominica application was submitted in the second week of  November 2020 under Dominica Citizenship by Investment Program (non-refundable donation) and we received their acceptance letter in January 2021.
If you are planning to invest in a second passport, you must know that countries that offer citizenship through investment programs have restrictions on issuing passports to Iranian citizens. But this week Dominica announced that if the Iranian investors can prove they reside outside Iran, they can apply for Dominica passport.
The waiting time to receive Dominica citizenship is between 4 to 6 months. After receiving your Dominica passport, you gain the possibility of traveling to many countries such as the European Schengen states.
Our company is proud to announce that we has done several successful investment cases by the time the Dominican passport is issued.
Why is the demand for gaining Dominica passport so high?
The reason why investors are taking notice of Dominica citizenship program, is the many benefits of this CBI scheme.
Non-mandatory proof of business, source of Income, education, English language proficiency or interview,
Non-mandatory minimum reside,
Permitted dual citizenship,
Rewarding second citizenship to the children, parents, grandparents and siblings,
Life-time citizenship,
Minimal taxation _ no wealth, gift, inheritance, foreign income or capital gains tax,
Secrecy of bank's system,
Non-mandatory conscription.
For more information, please contact one of our advisers in UAE, Denmark or Canada, and we will do our utmost to guide you from doing the best investments until gaining The Dominica Citizenship for yourself and your family.
Do not hesitate to comment below, if you have any questions or experiences regarding gaining Dominica passport through investment.