Choose an Investment Destination to Obtain Citizenship or Residency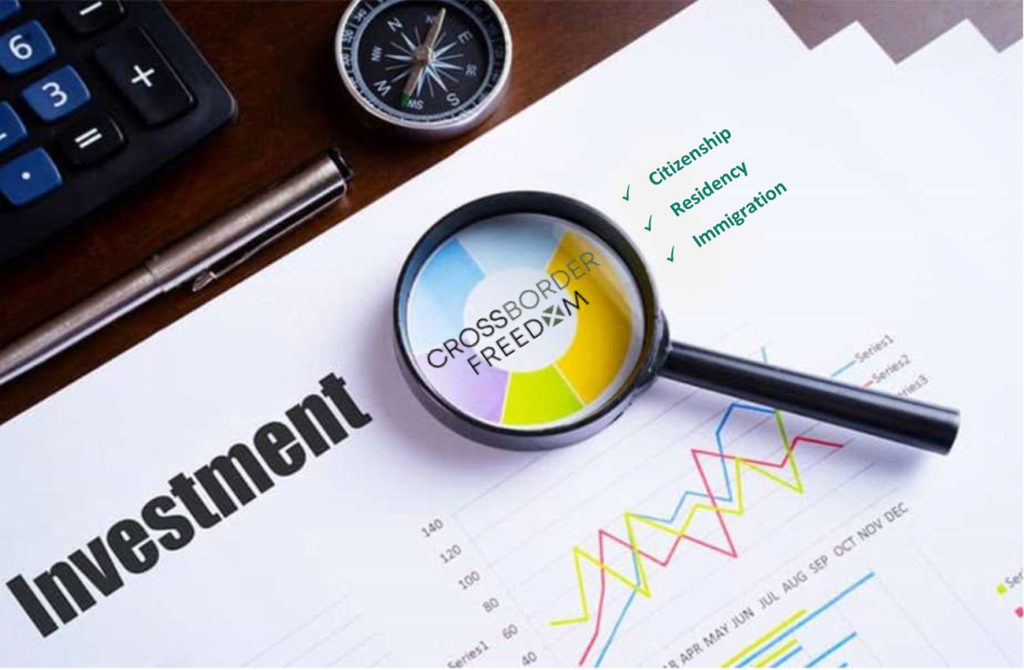 If you are planning to achieve your desirable commercial and financial goals or social welfare, yet do not know where to invest your money, this post may help you decide.
Investment in another country can bring you numerous benefits. A second passport will be life-saving and a global citizenship is a priceless way to set you free from restrictions.
The citizenship programs may vary greatly by country. The investors may choose to immigrate, pursue a second passport or invest in one specific country to achieve residency according to their personal goals or needs.
What is your goal for investing in a citizenship or Residency program or immigration?
The most popular reasons for immigrating or investing in a second passport or residency are the following:
Investment opportunities and international business,
Advantageous tax systems in destination country,
Improve quality and standard of living including better healthcare and education,
A safe alternative to live in times of political or economic instability,
The convenience of visa-free travel,
Geographical location of the country.
We have provided below a table of available Immigration, Citizenship and Residency programs. You can choose one of the programs below according to your budget, family needs, business conditions and other important factors:
Comparative table -Click for high resolution photo- En .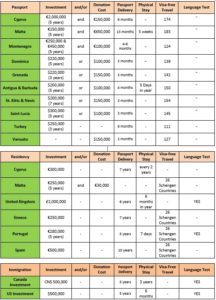 Please kindly note that, the Iranian investors who live in Iran have a limited range of choices consisting:
Canada Investment Programs,
Portugal Golden Visa,
Greece Golden Visa,
Cyprus Passport and,
Turkey Passport.
Nevertheless, the interested Iranian investors who have been living abroad for a certain period of time can apply under more vast range of options (including also the above mentioned programs):
Montenegro Passport,
Dominica Passport,
Antigua Passport and
Vanuatu Passport.
Please be advised that only the minimum investment amount has been mentioned in the above table. Therefore, each program may request for higher investments according to the dependents' specifications or chosen method of investment.
What is your ultimate goal for investing in a second citizenship or residency?
What is your investment budget?
What are your desired investment options?
How quickly do you plan to acquire citizenship?
Do you intend to reside in the country of choice?
Any investor will face countless questions in his mind about investment process. You can receive professional consultation in order to find convincing answers and choose the best location for relocation!
Please check our website to get more information about the costs relating Citizenship, Residency, Immigration programs and student visa.
For more information about the available citizenship by investment programs or Residency schemes, please contact one of our advisers in UAE, Denmark or Canada, and we will do our utmost to guide you through your Investment process.
Please feel free to relay your comments below, if you have any questions.