Dominica Citizenship Acceptance Letter Issued for another Client by Investing in Pre-approved Projects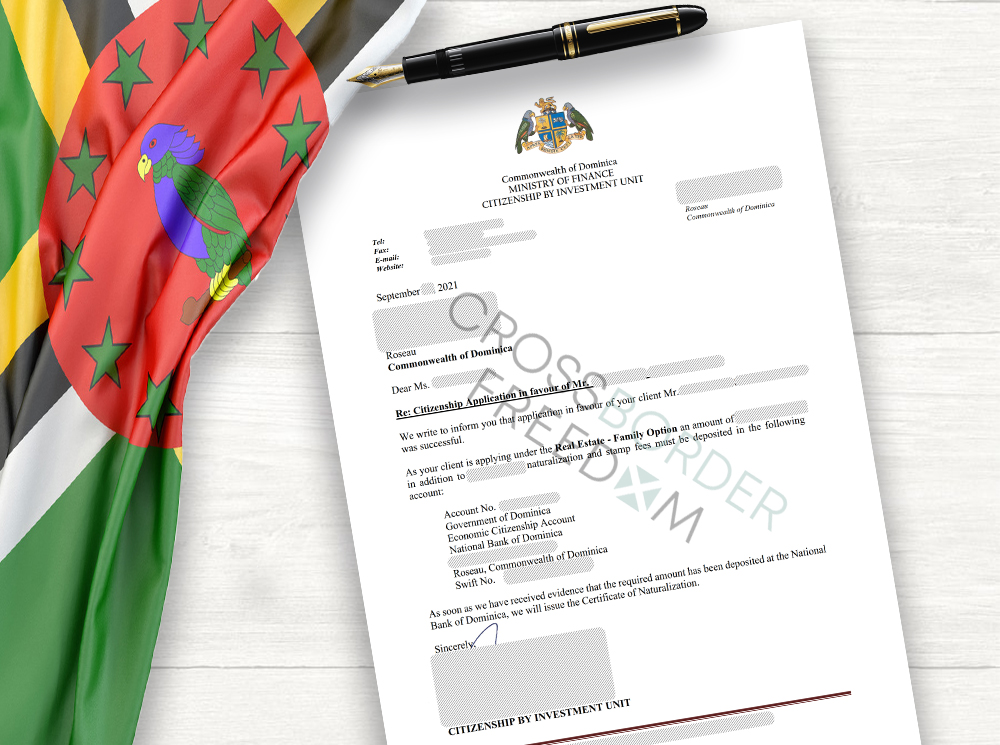 Our client participated in Dominica Citizenship by Investment Program by investing in one of Dominica's real estate projects for his entire family and after one month the acceptance letter was issued in September 2021.
What is Dominica Citizenship Obtaining Process Like?
Dominica's citizenship process is straightforward; however, it needs to be guided by professionals, and experienced consultants, and immigration lawyers. Here at Cross Border Freedom, we assist you with the citizenship application. We will guide you through every step of the Dominica citizenship acquisition process with ultimate care, making sure that your application is submitted correctly and we will follow up on the application approval. We want to ensure that your second passport application is a successful and easy experience.
Dominica citizenship obtaining process occurs in 8 simples steps over a period of 4 to 6 months:
Step One – Getting ready
Speak to our advisors.  We will assess your personal status and assist you in selecting the best investment options most suitable for you, meeting the required criteria so that your chances of approval maximize.
Step Two – Choosing your investment options
Citizenship by investment in Dominica is available through two options:
OPTION 1
From $100,000 — Donation to the government fund
Contribution to the Economic Diversification Fund (EDF) is non – refundable.
The donation amount will vary based on the number of dependents included in the main applicant's application.
OPTION 2
From $220,000 — Real estate investment
All real estate options are pre-approved by the Dominica government.
After 3 years the property can be sold, giving you the opportunity to regain your capital, without affecting your citizenship.
Step Three- Preparing the Documents
According to a detailed checklist, you will be guided through the documents collection stage. Our experienced consultants will collect and check all the documents for compliance and ensure all requirements are met and they are well-translated and recorded.
Step Four- Submitting your application
Once all your original documents are collected and sent to us, our team of specialists will organize the documents and review your file and prepare it for submission. The complete file will be submitted to the Government of Dominica through an authorized local agent, as required by the law of Dominica.
Step Five – Processing of application
Each application is inspected by the Government through a comprehensive due diligence background check. At the moment, there is no need to do any interviews.
Step Six- Receiving your pre-approval
Once the application is examined by the Government and the decision is made, the applicant will be informed by a letter advising of the decision.
Step Seven- Completing your investment
When your application is approved, you will be asked to transfer the final amount under your chosen option (non-refundable contribution or purchase price of the property) to Dominica.
Step Eight- Dominica citizenship application completion
Upon the completion of your investment citizenship, certificate/s will be issued, and your passport application will be submitted on your behalf. You do not even need to make a visit to Dominica, because your passport will be mailed to you via a validated courier service.
For more detailed information on the requirements for obtaining Dominica Citizenship by Investment, please contact one of our advisers in the UAE, Denmark, or Canada, we will accompany you and your family until you obtain Dominica Passport.
If you have any questions or comments about Dominica Citizenship by Investment, you can share them with us in the comments section.