Dominica Joined the Countries with Biometric Passports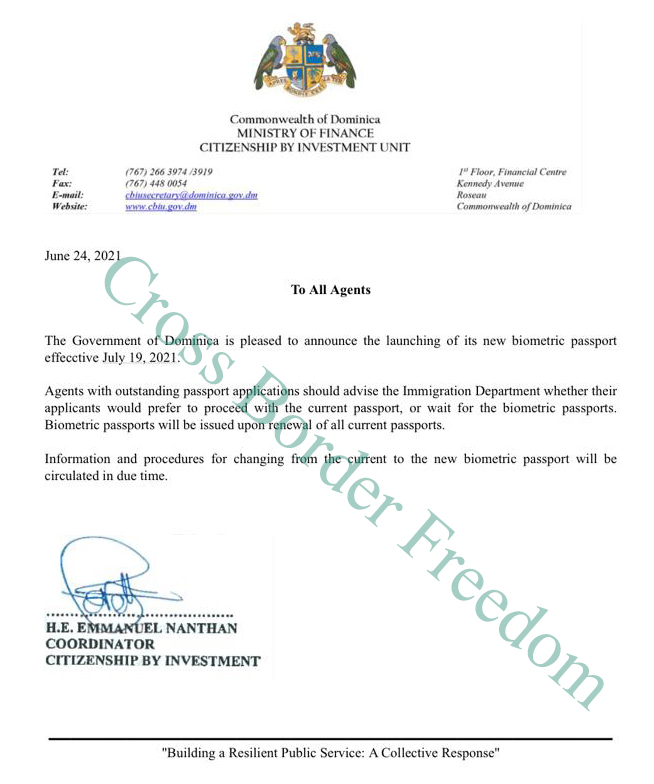 Dominica Citizenship in 2021
Dominica Citizenship by Investment Program entered its 28th year of operation in 2021, therefore the framework of the program has been re-evaluated and the Citizenship by Investment Unit has adopted new policies. The latest news is that the government of Dominica has announced the issuance of new biometric passports for investors effective July 19, 2021.
 The agents and the government of Dominica will decide about the outstanding applications and whether they would issue the current passport or will issue the biometric passports.
Considering this new procedure, the biometric passports will be issued upon renewal of all current passports.
The complete information about the details of Dominica Biometric Passport is yet to be announced.
What is a biometric passport?
A biometric passport, which is also known as an e-passport, ePassport, or a digital passport, has an embedded electronic microprocessor chip which contains biometric information. The purpose of this kind of passport is to authenticate the identity of the passport holder.
Apart from passport's credibility, the short process of obtaining a Dominican passport is an appealing reason that has attracted many investors to this CBI program in the world's current situation. The waiting time to receive a Dominica passport is between 4 to 6 months, after which the investor can easily travel to more than 140 countries for business or take advantage of business opportunities in Dominica.
For more information, please contact our advisors in UAE, Denmark or Canada, and we will do our utmost to guide you through your Dominica Citizenship by Investment process.
Do not hesitate to comment below, if you have any question or experience in this regard.