Everything You Need to Know About Spain Golden Visa!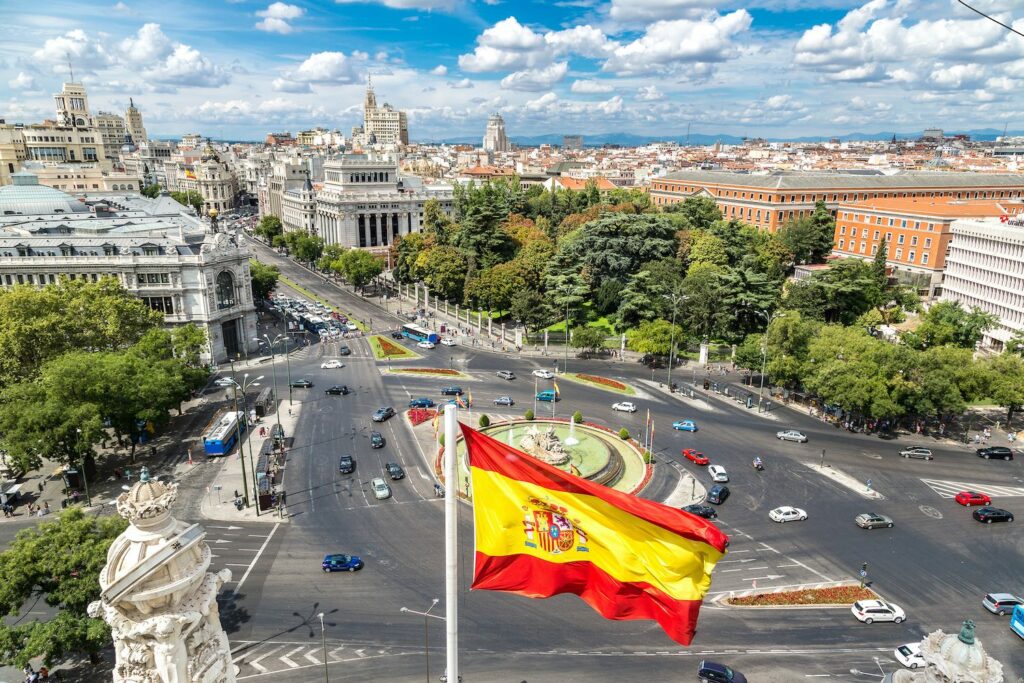 One of the best ways to get Spain residency is by purchasing a property in this touristic European country.  Spanish Golden Visa Program allows the applicants to make investment in the country and be eligible to live and work in Spain. This program could successfully welcome more than 6,000 investors and contribute €3 billion to the economy of the country since its opening.
Spain Golden Visa Program, launched in 2013, will gain family residency to the investors plus many other benefits.
How can you get a Golden Visa of Spain?
Spain's Golden Visa Program offers investors a range of investment options. The most popular method is real estate investment as an alternative residence in the Mediterranean to enjoy with the family.
Types of Spanish Golden Visa Investment to acquire Permanent Residence follow:
Option 1: Acquisition of real estate with a minimum value of €500,000.
Option 2: Investment in shares of Spanish companies for €1,000,000.
Option 3: Investment into government bonds for €2,000,000.
Option 4: Funds transfer of €1,000,000 into a Spanish bank account.
The investors have to fulfill the following requirements in addition to the investment:
The main applicant must be 18 years and above,
Have no criminal records,
Have health insurance in Spain,
Have not been refused a Schengen Visa before.
Spain Golden Visa is suitable for non-EU nationals who are going to make an intelligent investment for their future. This visa lets the holder and their family members travel visa-free to the Schengen Zone in addition to residency in Spain.
The following family members can be included for the Golden Visa of Spain:
The main applicant,
Spouse,
Unwed and dependent adult children of any age,
Dependent elderly parents and parents-in-law.
Some benefits of Golden Visa of Spain
The Spain Golden Visa brings the holder several advantages in addition to its simplicity in terms of requirements. The opportunity to work both as a self-employed worker in Spain and as an employee is one of the main benefits.
Visa-free travel within the Schengen Area including Switzerland, Luxemburg, Italy, and Germany,
Study in schools and universities in Spain and benefiting from a world-class healthcare system and services,
All family members included in the program,
Keep your existing nationality or other residencies (some limitations for some nations).
Note: In some cases, Spain may agree to dual citizenship. The Spanish government has reached an agreement with countries such as Chile, Ecuador, Honduras, the Dominican Republic, Argentina, and Peru that if the citizens of these countries apply for Spanish citizenship, they can keep their own nationalities, too. It is the same for the citizens of Spain who are going to obtain the citizenship of above countries.
Timeline of Spanish Golden Visa
1- Preparation —– 1-2 months
Choose the investment option,
Prepare and submit application for the Schengen visa,
Wait for your Schengen visa to be approved,
Travel to Spain to submit your biometric data.
2- Processing —– Month 3
The Spanish government reviews and approves your Golden visa application.
3- Permit Renewal —– Year 2
You should renew your Golden Visa application before the two-year permit expires. You have to be in Spain in person to do this.
4- Apply for Citizenship —– Year 10
You can apply for citizenship after ten years of residency in Spain. Remember that you need to spend at least six months a year for ten years to be eligible for citizenship.
Invest in Spain by buying a property and obtain a residence permit
Golden Visa of Spain is one of the main topics of immigration for people who are interested in obtaining Spanish residency and Spanish citizenship. You can apply for residency and finally citizenship of this country in six ways: work, education, investment, birth, marriage and asylum.
Considering the various ways of investing in Spain, it can be said that the method of buying a property with 500,000 Euros in commercial and residential real estate is the best option to get Spanish permanent residency from very beginning. But in other methods of investment such as self-sponsorship, entrepreneurship and company registration, individuals initially receive temporary residence for 1 year, and by renewing it annually, they can obtain permanent residence after 5 years. In the property purchase method in Spain, you can apply for Spanish citizenship or passport after 10 years.
According to the latest statistics provided by the World Bank in 2019, inflation in Spain fell by 1%, and this statistic can be very attractive for applicants who want to invest or buy property in this country. This number indicates that Spain is relatively economically stable and the cost of living in this country is commensurate.
Comparison of Golden Visa of Spain, Portugal, and Greece
Although they are basically exactly the same, the programs are different in certain respects. Below we will make a complete comparison.
All three countries have several investment routes that lead to a Golden Visa residence permit. The common denominator in all of them is the option of investing in real estate. It is also the most popular investment method in all three countries. The lowest investment with 250,000 Euros in real estate is related to the Golden Visa Program in Greece.
Investment options table -Click for high resolution photo: Investment Options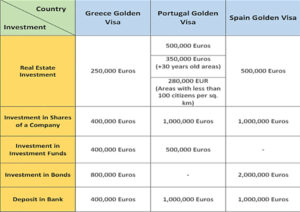 These programs provide applicants the right to live in the respective country and travel to the Schengen area without the need for an additional visa. If the investment path you are looking for is real estate, the government of that country will allow the investor to rent the property. Please note that all family members are included in the program. Other benefits vary by country.
To maintain and renew a residence permit, most of the countries require applicants to stay in the country to keep their investment. In terms of residency obligations, Portugal has 7 days a year, while Spain and Greece have no obligation to minimum stay.
The "Golden Visa" does not magically entitle the applicant to citizenship in any country. However, each program gives chance to apply for citizenship in accordance with the normal nationality schedule. Citizenship requirements vary widely between Portugal, Spain and Greece. The most important difference is in the accommodation conditions.
Citizenship table -Click for high resolution photo. Citizenship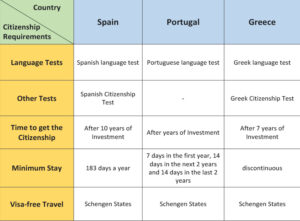 Having a Gold Visa in Portugal, Spain or Greece, it is not necessary for the applicant to pay income tax. Only if the applicant decides to spend more than 183 days a year in the country, he will be required to pay taxes. Residents and citizens of Portugal, Spain and Greece who spend less than 183 days a year in the country are exempt from paying income tax.
To get more information, please contact one of our advisors in UAE, Denmark or Canada, and we will do our outmost to guide you through your Spain Golden Visa process.
Do not hesitate to comment below, if you have any questions relating to Spain Residency by Investment.