International Driving License Issued for another Company Client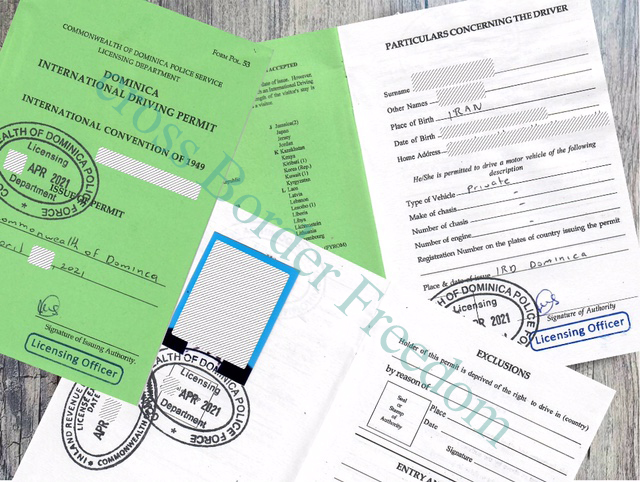 The above international driving license has been issued for one of our clients who had previously applied under Dominica citizenship by investment program and has already received his Dominica passport.
Known for its virginal nature and lush forests, Dominica also called "The Nature Island" is a country in the Caribbean which has recently been widely noticed by investors from all over the world for its sustainable economic growth and seducing citizenship programs.
Citizenship by investment in Dominica is available through two options:
The first is by making an economic contribution to the country.
The second option available since January 2015 is through real estate investment.
Dominica offers one of the most affordable and flexible second passport programs. Until 1993 it was not feasible to gain Dominican citizenship without residing in the country. The Dominican government altered that with the Economic Dominica Citizenship program whereby the obligation for residency to gain citizenship was ruled out. Applicants making such a contribution are granted full citizenship for themselves and their family allowing visa-free travel to over 140 countries including the UK and the EU Schengen states.
CBF Special Services for Dominica Citizens
Obtain UAE residency with your Dominica passport,
Open a bank account with your Dominica passport,
Obtain International licenses,
Obtain Dominica driving license,
Obtain the mailbox in Dominica,
Renew your Passport,
Obtain an address in Dominica – Proof of Address,
Apostille of the official documents – such as Police Certificate.
Upon receiving Dominica citizenship through investment you will enjoy the following benefits:
Visa-free travel to over 140 countries,
Quick processing time in less than 6 months,
The possibility to include the main applicant's spouse, the children, parents, and siblings,
No need to reside in Dominica,
Allowed multiple citizenships,
No obligation to prove your business, source of income, education, English language proficiency, and no interviews,
Very competitive taxation benefits in comparison with other programs,
The confidential banking system,
Freedom of living, studying and trading within the Caribbean.
For more information, please contact one of our advisors in UAE, Denmark, or Canada, and we will do our utmost to guide you through your Dominica Citizenship by Investment process.
Do not hesitate to relay your comments below, if you have any questions or experiences relating to the Dominica Investment Opportunities or Dominica Citizenship.