Portugal Residency Card Issued for an Investor's 4-Year-Old Child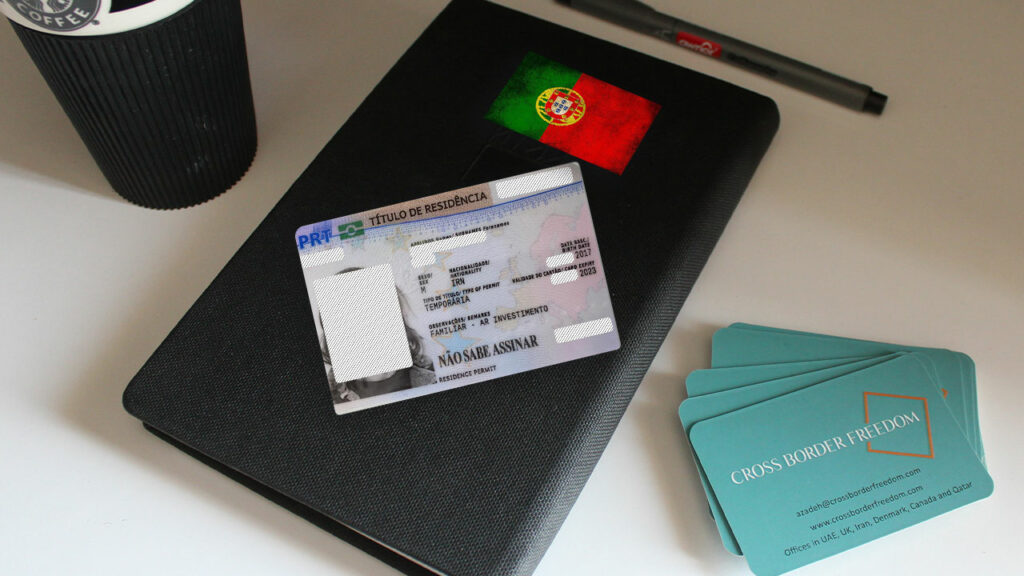 This Portugal residency card has been issued for our client's child. He was applying for Portugal Golden Visa Program by purchasing a €350,000 property.
You can Guarantee your Children's Future by Investing in Portugal Golden Visa Program!
One of the most appealing Portugal Golden Visa family benefits is that your dependent family members including your children are eligible for permanent residency and, after 5 years, citizenship. Upon receiving Portugal residency, your children's future will be guaranteed regarding their education opportunities, access to one of the best health care systems in the world, living in one of the world's safest and cleanest countries, enjoying one of a kind touristic and cultural attractions, traveling freely around the world, and the best occupational opportunities. Whatever you wish for your children to have, Portugal Golden Visa can make true.
Education Opportunities
Upon receiving your residency in Portugal, you can enroll your dependent children in public and private schools in Portugal, where tuitions fees, if not free, will be considerably cheap and the education will be of renowned high quality.
With a long history of well-respected universities, Portugal's higher education system was ranked the 35th best in the world in the first edition of the QS Higher Education System Strength Rankings. As well as strong universities, Portugal is also home to a number of well-reputed polytechnics.
Adequate Health Care System
Becoming Portuguese residents, you and your family members will be able to benefit from the universal health care system of Portugal, which is comprised of many excellent clinics and hospitals that are worldly known for their personalized and humane treatment of patients. The recent experience of the Covid-19 pandemic demonstrated how crucial it is to have quick and assured access to the most advanced medical care. The way in which Portugal addressed the challenges posed by the coronavirus pandemic has been hailed as one of the most successful national responses to COVID-19. Commentators have called Portugal's response exemplary while portraying the country's management of the public health crisis as exceptional when compared to other European countries' responses.
Safety and Peace
When considering a residency program or immigration pathway, the safety and peacefulness of a country is a large factor every parent considers for their children. The Portugal Golden Visa key benefits coupled with the remarkable safety ranking create an unmatched program and country. Portugal was ranked the 3rd most peaceful country in the world in 2020.
Clean Air and Beautiful Nature
Every considerate parent these days worries about the effects of air and water pollution on their children's health. Portugal is ranked the 38th cleanest country in the world regarding air quality. The importance of the nature vicinity is another factor your children need when growing up. Portugal is also one of the European countries with the greatest diversity of natural landscapes. The Portuguese have always taken care of nature. There are untouched, dazzling landscapes are all over the country.
Rich Culture
Being exposed to art and culture is a key factor in shaping a child's attitude and perception towards the world around them. Aside from the many historic sites and areas of natural beauty, Portugal is also known for its contemporary culture and music. In the main cities along the coast, you can find a remarkable number of festivals and events to suit your tastes. Whether your child is a food lover, hiker, music fanatic, sight-seer, or history buff, choosing to live in Portugal is a great option.
The Portuguese on the other hand, are welcoming, polite, and friendly to any visitor and foreigner, irrespective of their race, country of origin, and religion which makes it easier for your family to integrate with the community.
Freedom of Travel
Obtaining the Portuguese residency will give you and your family the rights to visa-free travel to all the Schengen area countries, besides, residency holders can become eligible for Portuguese citizenship after 5 years of having the residency, noting that Portugal allows dual citizenship, with the Portuguese citizenship and passport you will give your children the opportunity of visa-free access and travel to more than 167 destinations around the world, Portugal's passport is currently ranked as the 5th strongest passport in the world.
Exquisite Wok Opportunities
As a parent, you would definitely want to make sure your children will have a prosperous professional future too. The Portuguese job market is becoming increasingly expat-friendly. Many tech companies based in Portugal welcome employees from all parts of the world and these are increasing by the minute. In addition, one of the luxuries of living in Portugal is the proximity of many prominent surrounding countries. Business travel is simple when working with any European country compared to living on another continent or across oceans.
In Short, among the best of Portugal Golden Visa benefits is that the program makes it seem as if your investment is residing in Portugal on your behalf for five years even if you do not want to live in Portugal immediately, you are not required to. The residency rules are incomparable to other European countries. Also, the opportunity for investing in real estate is not common among other visa programs. Purchasing a property and renting it for 5+ years has the potential to earn investors a profit, essentially making the Golden Visa investment free. Moreover, by making this smart investment, you will invest in your children's future that brings the best to their immediate access.
For more detailed information on the requirements for obtaining Portugal Residency by Investment in real estate, please contact one of our advisers in the UAE, Denmark, or Canada, we will accompany you and your family until you obtain Portugal Residency Cards.
If you have any questions or comments about the Portugal Golden Visa Program by Investment, you can share them with us in the comments section.