Receipt of the St. Kitts and Nevis Letter of Acceptance for another Company Applicants, issued in March 2021.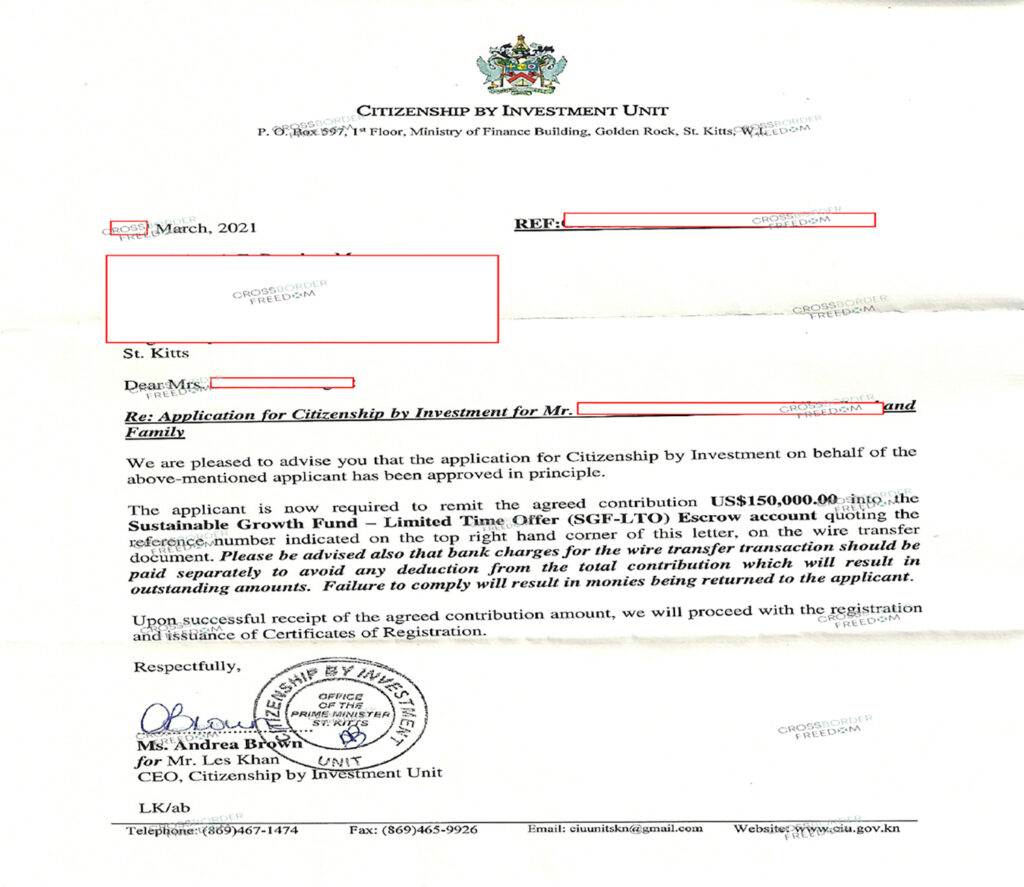 His application, which was submitted under the citizenship through investment Program in late December 2020, received his letter of acceptance in the first half of March 2021.
St. Kitts and Nevis is a British English-speaking Commonwealth of Independent States located in the very temperate northeastern part of the Caribbean Sea, about 2,000 miles southeast of Miami, United States.
According to the policies of the country of Saint-Kitts and Nevis, since 1984, laws have been passed for foreign investors and their families for permanent residency and full citizenship (St. Kitts and Nevis Passport).
For this purpose, investment options for obtaining a second passport from this country are classified as follows:
 Option 1 – Non-refundable Sustainable Growth Funds (SGF):
150,000 USD for single applicants and family of up to 4.
25,000 USD for the additional of the spouse.
10,000 USD for each additional dependent.
Option 2 – real estate Investment:
In a minimum of $ 200,000 and maintain the property for 7 years.
Invest at least $ 400,000 and maintain the property for 5 years.
learn more about obtaining a St. Kitts and Nevis passport:
You do not have to reside in St. Kitts and Nevis at all, whether you are applying for a passport or after obtaining a passport and citizenship. But once you receive your new passport, you, as a St. Kitts and Nevis citizen, will be allowed to live in St. Kitts and Nevis forever.
As a citizen, you can buy and sell real estate and anything else legal. The government of St. Kitts and Nevis does not have any taxes on foreign income, inheritance, work, forgiveness, and so on.
Citizens of St. Kitts and Nevis need a visa to travel to the United States, which usually takes a few days.
You can travel to more than 135 countries with your St. Kitts and Nevis passport, including the United Kingdom, Hong Kong, European Schengen countries and India, without the need for a visa or with a visa upon arrival at the airport of those countries.
As a citizen of St. Kitts and Nevis you can work freely in the UK for up to two years without the need for a specific employer or job title.
For more detailed information, please contact one of our consultants in the UAE, Denmark or Canada, we will guide you through the investment for yourself and your family to make the best investments to get St. Kitts and Nevis citizenship and passport.
If you have questions, experiences, or comments on how to become a St.Kitts and Nevis citizenship by investing, share with us in the comments section.