Spend Your Retirement in the Heaven of St. Lucia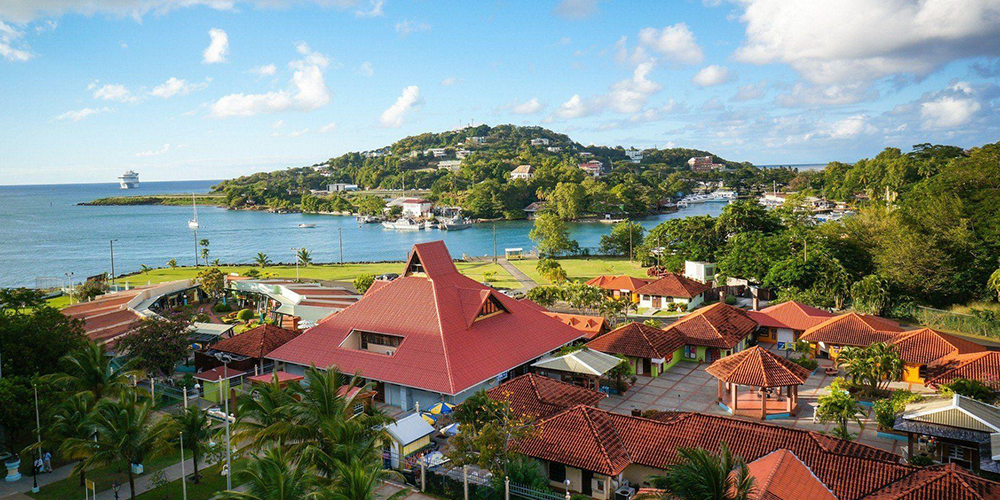 St. Lucia is a beautiful island with lush green mountains and soft sandy beaches. It is strategically located between the Americas and is only eight hours away from Europe. Saint Lucia's nearest neighbors are Martinique in the north and St Vincent and the Grenadines in the south. The island has a total area of 616 square km.
With marvelous beaches, delicious food, friendly people, and colorful culture, St. Lucia in the Caribbean Commonwealth can sure be your perfect destination for a relaxing retirement abroad. Expats in Saint Lucia enjoy an exotic Caribbean setting, friendly locals, and all kinds of activities.
Living in Saint Lucia
Because of its relatively small size, there are really no boring areas on the island. Any location you choose to call home will be close enough to mountains, towns, and beaches. The capital city (Castries) is located in the northern section of the island and represents approximately 40% of the population. Individuals have the choice of living in or around major population centers such as Vieux-Fort and Gros-Islet or to live in some of the less populated towns or villages like Dennery, Soufriere, Anse-La-Raye within easy access to the capital.
St. Lucia Economy and Costs
St. Lucia uses the East Caribbean Dollar as its currency. Its economy is largely comprised of agriculture, tourism, offshore banking and finance, and petroleum-related industry. Because of the popularity of tourism in St. Lucia and the increasing number of affluent ex-pats and retirees in the country, there are certain areas that are more expensive than in neighboring Caribbean countries. However, there are still plenty of opportunities to live a qualified retirement at a less expensive price. This is especially true if you use local products in your routine and eliminate imported goods.
Examples of some costs in St. Lucia:
A one-bedroom apartment in the city center of Castries: rent about $382 per month,
A three-bedroom in the city center: rent around $925 per month,
Basic electricity, heating, cooling, water for an 85 sq.m apartment: $120 per month
The average monthly net salary in Castries is $1,480.
Rent, utility, and food averages will decrease as you migrate away from the city center. However, those prices could increase in the city center of Castries in certain tourist-heavy resort destinations. Positive financial advantages in St. Lucia include no capital gains, inheritance, or estate taxes.
Starting a Business in St. Lucia
Saint Lucia is a great place to live and bring up children. The locals are extremely friendly and very open to talking and doing business with. You need to base yourself in the Rodney Bay area, this is where most of your business will be done. It is even better If you can make your product locally because there will be no import duties.
Residential Properties
Residential property is available to buy or rent in the city, towns, and villages throughout Saint Lucia. The prices vary between locations and are often negotiable. All non-nationals are required to obtain a license, in order to purchase property in St. Lucia. The process is relatively straightforward. The option of renting is also available to executives who would prefer renting instead of purchasing a property. Rental prices would vary in relation to location.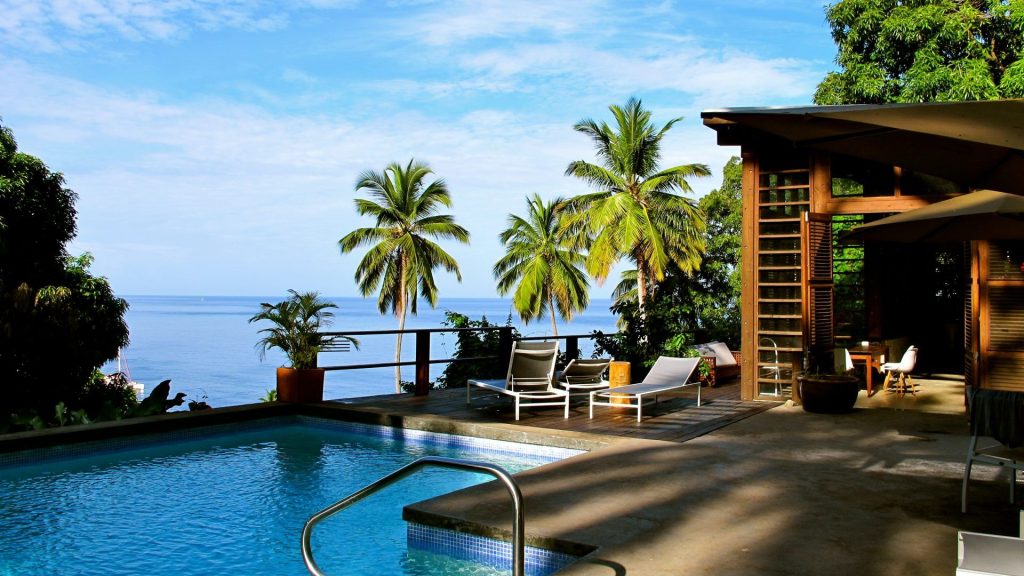 Getting St. Lucia Citizenship by Investment
If you would like to know the process of receiving a second passport for your retirement abroad in St. Lucia, you can read the citizenship-by-investment program page. There are three ways to get a St. Lucia passport:
Monetary Donation to the NEF (National Economic Fund)
Investment into St. Lucia Real Estate
Investment into Government Bonds
Enterprise Project Investment
Receiving a St. Lucia passport through this means will grant you the right to visa-free travel to more than 131 countries including all Schengen Area states in the EU, as well as Hong Kong and the United Kingdom. You can also gain citizenship for your family members.
Saint Lucia Geography and Climate
Saint Lucia is a tropical island bordered by the Atlantic Ocean on the east coast, and the Caribbean Sea on the west. As a result, St Lucia has a hot, tropical climate throughout the year, balanced by the northeast winds. The average annual temperature is estimated between 25 °C and 29 °C. There is a two-seasoned weather period on the island, like all islands in the region, the driest period on the island starts from February to May, whereas the hurricane season (the wet season) commences from June to November yearly. Though there is a dry and wet season, the island experiences rainfall throughout the year.
Saint Lucia is famous for its iconic twin peaks – the Pitons which received WORLD HERITAGE status by UNESCO in 2004. The Pitons are regarded as an important landmark. The island is also famous for its tropical rainforests and the only drive-in Volcano in the world, which is filled with therapeutic hot spring baths, magnificent waterfalls – both warm and cold falls. There are no private beaches in Saint Lucia, therefore, everyone is able to access all the wonderful white and black sand beaches.
Culture
There are a number of cultural festivals that are indigenous to Saint Lucia including the La Rose and La Marguerite Flower Festivals. With English as the official national language and a major airport offering regular direct flights to Europe and North America, it is clear why so many ex-pats are choosing to spend their retirement abroad in St. Lucia. As with many other Caribbean islands, music is an important part of St. Lucian Culture. Saint Lucia is also known for its quadrille dance and folk songs. Country Music is popular in Saint Lucia, in part because it is very similar to Kwadril. There is also the St. Lucia Jazz Festival which is the island's most growing festival.
Entertainment, Art, and Food
The northernmost part of the island is known as the entertainment spot, with exquisite international restaurants which cater to a wide range of tastes and offer all types of international cuisines. There are many other entertainment hot spots around the island that also hosts the renowned Atlantic Rally for Cruisers, the Caribbean first yachting event.
There are numerous large and luxury hotels, all-inclusive hotels, boutique properties, small hotels, villa/cottages, apartments. There is also a multiplex cinema in the north of the island which adds to the entertainment offerings.
During the month of August, you can experience the great leatherback turtle assembling on a protected northern beach shore to lay their eggs. The island is also home to various unique species of birds, flora, and reptiles. Across the island there are many hiking trails and other outdoor events such as ATV (All-terrain vehicle ride) trail riding, cross country biking, parasailing, and kite surfing.
Hiking the Piton Mountains, exploring the rainforests filled with diverse creatures and plant life, or visiting the famed drive-in volcano are other activities are among other things to do in St. Lucia.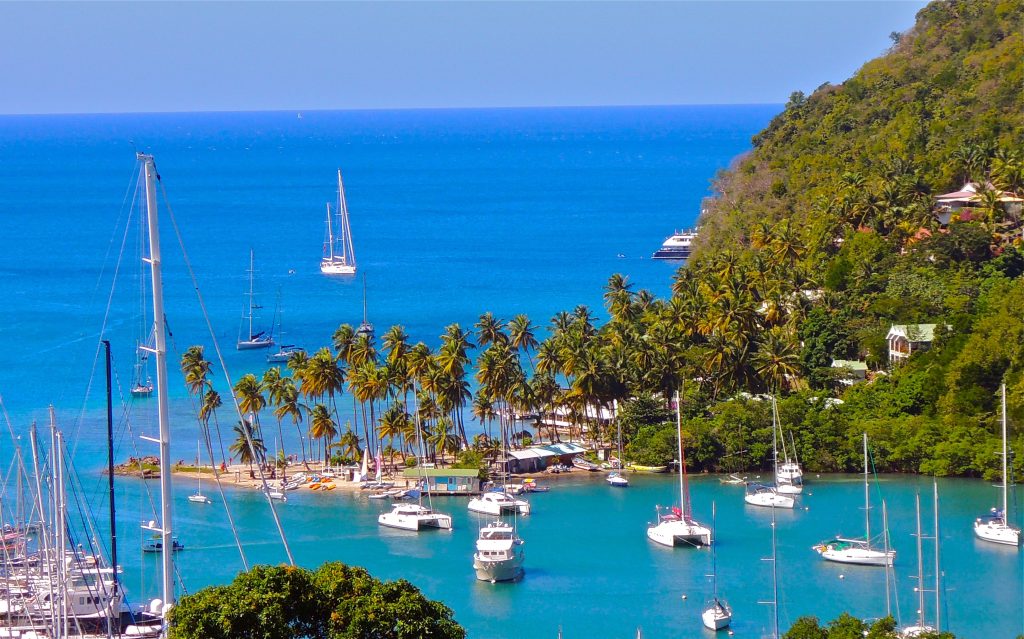 Healthcare
There are Health and wellness centers, public hospitals, private hospitals equipped with qualified doctors, nurses, caretakers, and psychiatrists. All health care in Saint Lucia is privately funded with the exception of health care services at the health centers throughout the island where all Saint Lucians and residents are entitled to free medical treatment at health centers. There are some insurance companies on the island which provide affordable health insurance to every resident and citizen of Saint Lucia.
Education
Saint Lucia's education system currently comprises early childhood (daycare or nursery) centers, primary schools, secondary schools, community colleges, universities, and international schools whose certificates are accepted in universities and colleges around the world. Investors migrating with children should provide their child/children's transcripts and an attendance letter from their previous schools.
Sports
Saint Lucia is known for its successes in many regional and international sporting disciplines. The most popular played sports on the island are football (soccer), basketball, cricket, tennis, volleyball, swimming, and netball. There is a range of sporting facilities located throughout the island accommodating other types of sports such as squash and other water sports. There is a national tennis center and two private tennis academies. Cricket is also very popular in Saint Lucia.
There are many qualified coaches and athletes throughout every sporting discipline who prepare and enable people to play whatever sport they may choose. Saint Lucia is also home to the occasional tournament for golf enthusiasts.
Driving
Driving in Saint Lucia is done on the left side of the road with vehicles configured to the UK and Japanese models (right-hand). To drive a vehicle, you will need to complete a driver's license application provided that you already have a valid driver's license from your home country. A local license is not required if you are a holder of a valid OECS or International Driving Permit. However, a transfer of license is done.
Shopping
Shopping in St. Lucia serves diverse people's tastes. There are duty-free shopping complexes and shops located in the north of the island. Duty-free shopping is also available at the island's airports as well as some resorts around the island. Supermarkets, wholesale purchasing and open food markets, home and garden, furniture, and many more shopping options are available to shopping lovers and the public alike.
For more detailed information on the requirements for obtaining St. Lucia Citizenship by Investment, please contact one of our advisers in the UAE, Denmark, or Canada, we will accompany you and your family until you obtain your St. Lucia Passport.
If you have any questions or comments about St. Lucia Citizenship by Investment, you can share them with us in the comments section.