St. Lucia Citizenship by Investment Offer Count Down Started!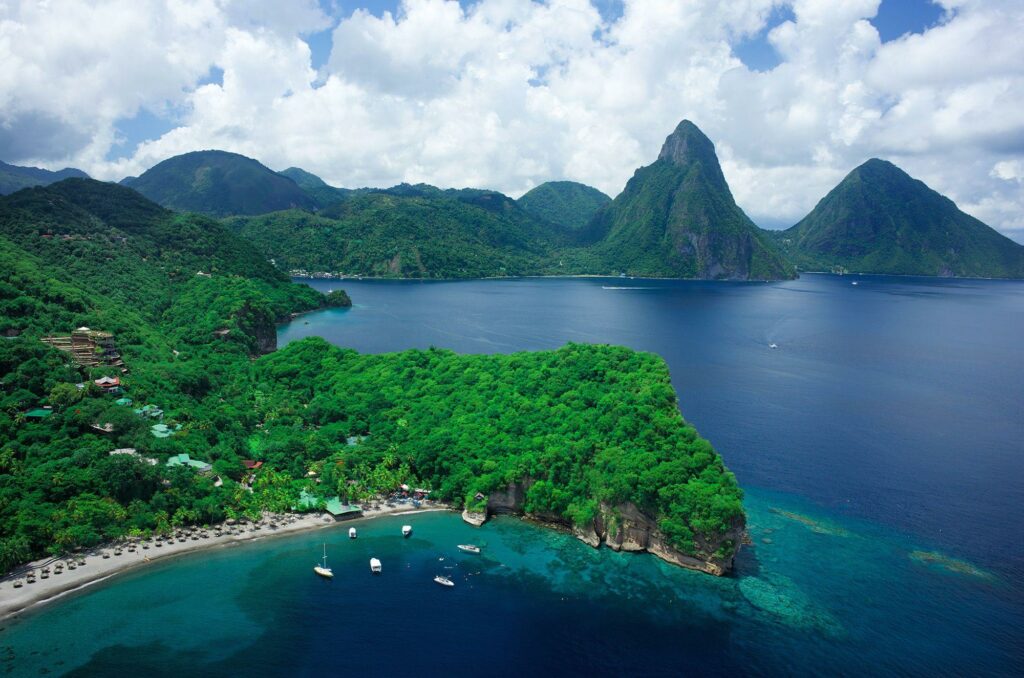 Saint Lucia is a fertile island country in the Caribbean Sea. It was formed by volcanic activities and its geographic features include a central ridge of mountains, many rivers, and boiling Sulphur springs. St. Lucia is surrounded by sandy beaches. This heavenly island has been a sought-after destination for tourists as well as investors and those who wish to acquire a credible passport. The government of St. Lucia launched its citizenship by investment program on 1st January 2016 and has been offering three options for the applicants to apply for CIP: A qualifying investment must satisfy the minimum investment level in either the Saint Lucia National Economic Fund (NEF) or an approved real estate project. There is also another convenient way through COVID-19 Relief Bond Investment which is only valid till December 31th 2021. In this article, we will shed light on more details of this one-time opportunity to earn citizenship by investment.
St Lucia is one of the few countries in the world to offer government bonds as an option to acquire citizenship at a discounted price against investments. It is a win-win for CBI investors.
In May 2020, the Government of St Lucia (GOSL) introduced special Covid relief bonds issued at a minimum bid of $250,000 as a new option for citizenship by investment against the situation caused by the Covid-19 pandemic. These special Covid bonds issued for a limited time in US dollars will be added to the Consolidated fund which is used to finance capital development in the State and in particular, economic and social infrastructures.
Government Bonds
The Government of Saint Lucia issues 5, 6, or 7 year zero-coupon Government Bonds (Coupons with zero interest) to attract prospective investors/applicants under the Citizenship by Investment Program (CIP). The Government of Saint Lucia will be the registrar and paying agent for the securities. The amount of the investment will depend on whether the investor is applying alone, with a spouse, or otherwise as offered under the CIP.
The bond has been issued under the authority of the National Savings Development Bonds Act and by a resolution of Parliament No. 110 of July 6th, 2020, which authorized the Minister for Finance to borrow capital for public uses of the state by the issue of securities.
Why invest in Government bonds?
Here are the benefits of investing in bonds
Investment is fully refunded after 5 years without interest,
Guaranteed by the Government of St Lucia,
It is one of the cheapest ways to acquire passports for families (net costs are low),
Citizenship is permanent and it comes with voting rights,
Includes tax benefits and exemptions in the Caribbean,
It is important to note if you apply for citizenship, that bond sum can be subscribed or paid, only after pre-approval, subjected to clearing all background checks, taking 3 months to be processed, and another 2 weeks for the issuance of SL passports.
On top of the bond investment, you will pay US$30,000 Government processing fees (reduced from $50,000) for issuing bonds. The CIP Application fee is waived but you have to bear due diligence costs done by GOSL.
For example, if you are a single applicant since the $250,000 is refunded, the total costs paid to the government come down to the licensed agent fee and other government fees.
How to get finance bonds?
If you do not have $250,000 to invest, another clever option is to finance or loan the bond sum from an investment broker or bank. You will have to bear the interest rate for the bond period. You need to check the interest rate with your bank or investment broker for financing. There are additional costs processing fee plus the due diligence and lawyer's fee. However, in the end, because the government bonds will be refunded at the due time, you will have paid far less than other CBI programs.
Important Note:
St. Lucia government bonds investment option will only be open until Dec 31, 2021, after this, the window closes.
Covid Relief Bonds
Here is the list of GOSL bonds issued for Covid relief
Single – Investment period Covid 5 years – Minimum Relief Bonds USD 250,000.
Two applicants – Investment period Covid 6 years (or) 5 years – Minimum Relief Bonds USD 250,000 (or) USD 300,000.
Five Applicants (Family) – Investment period Covid 7 years – Minimum Relief Bonds USD 300,000.
Additional dependents – Investment period Covid 5+ years – Minimum Relief Bonds USD 15,000.
Any bond sum paid for additional dependents is also refundable.
The bond can be redeemed by the citizen or the authorized agents after the holding period. The Citizenship is permanent and it is not withdrawn upon receiving back the bond sum.
Saint Lucia Citizenship by Investment Program
The CIP St Lucia is a very well-run and highly reputable international citizenship program run by GOSL.  It is built upon pillars such as high integrity, transparency, efficient processing times, world-class vetting mechanism, with only qualifying applicants admitted into the program. The CIP does not accept investors from some countries and those who have criminal backgrounds and previous visa denials arising from the UK and Schengen states.
The Saint Lucia passport is a well-respected traveling document across international borders. It is a passport that allows visa-free, to more than 130 countries.
Remember that the St. Lucia government bonds option may not be extended after Dec 31, 2021; therefore if you wish to earn the citizenship of this marvelous sanctuary it is time to start planning.
For more detailed information on the requirements for obtaining St. Lucia Citizenship by Investment, please contact one of our advisers in the UAE, Denmark, or Canada, we will accompany you and your family until you obtain St. Lucia Citizenship.
If you have any questions or comments about the Saint Citizenship by Investment, you can share them with us in the comments section.