Visa Waiver Agreement to be Signed between Dominica and China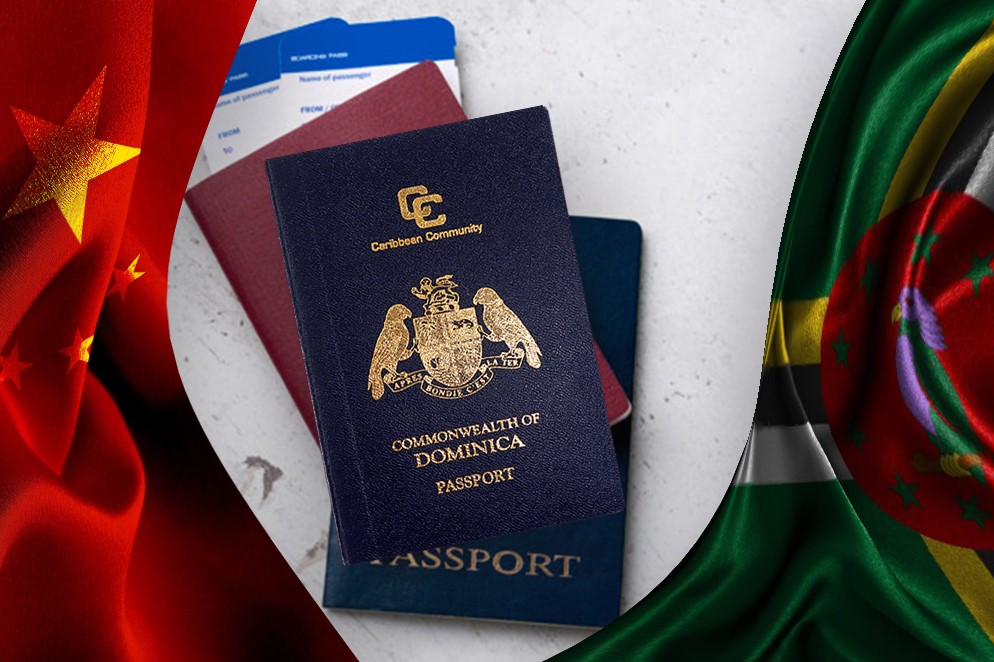 The Commonwealth of Dominica and the Republic of China will sign a Visa Waiver Agreement on Monday, November 22, allowing the holders of ordinary Commonwealth of Dominica passports to enter China visa-free. Additional details will be provided following the signature of the agreement in Roseau.
Dominica is a member of the Commonwealth of Nations, the United Nations (UN), the Caribbean Community (CARICOM), the Organization of Eastern Caribbean States (OECS), the Organization of American States (OAS), and the International Organization of La Francophonie. The country is working to expand the list of countries to which its citizens and passport holders can enjoy visa-free travel.
As of May 2021, Dominica citizens had visa-free or visa on arrival access to 143 countries and territories, ranking the Dominica passport 33rd in terms of travel freedom
Moreover, the government of Dominica has provided several taxing and other incentives that aim to make doing business in this island paradise even more attractive; these include generous tax reductions, import duty, and tax waivers, and streamlined processes.
Offering visa-free and visa-on-arrival travel to over 143 countries, a passport from the Commonwealth of Dominica will also grant you access to other territories including Russia, Hong Kong, Singapore, the Schengen Area, and the United Kingdom.
Visa Waiver Agreement  between Dominica and China
If you obtain Dominica Citizenship by investment, you and your dependents and immediate family will also be granted visa-free or visa-on-arrival to the following countries:
Andorra, Antigua and Barbuda, Armenia, Austria, Bahamas, Bahrain, Bangladesh, Barbados, Belarus, Belgium, Belize, Benin, Bolivia, Bosnia and Herzegovina, Botswana, Brazil, Bulgaria, Cambodia, Cape Verde, Colombia, Comoros, Costa Rica, Croatia, Cuba, Cyprus, Czech Republic, Denmark, Djibouti, Dominican Republic, Ecuador, Egypt, Estonia, Ethiopia, Fiji, Finland, France, Gabon, Gambia, Georgia, Germany, Greece, Grenada, Guinea-Bissau, Guyana, Haiti, Hungary, Iceland, India, Indonesia, Iran, Ireland, Israel, Italy, Jamaica, Jordan, Kenya, Kyrgyzstan, Laos, Latvia, Lesotho, Liechtenstein, Lithuania, Luxembourg, Madagascar, Malawi, Malaysia, Maldives, Malta, Mauritania, Mauritius, Micronesia, Moldova, Monaco, Montenegro, Mozambique, Nepal, Netherlands, Nicaragua, Norway, Palau, Panama, Peru, Philippines, Poland, Portugal, Qatar, Romania, Rwanda, Saint Kitts and Nevis, Saint Lucia, Saint Vincent and the Grenadines, Samoa, San Marino, Seychelles, Singapore, Slovakia, Slovenia, Solomon Islands, Somalia, South Korea, Spain, Sri Lanka, Suriname, Swaziland, Sweden, Switzerland, Tajikistan, Tanzania, Timor-Leste, Togo, Tonga, Trinidad and Tobago, Turkey, Tuvalu, Uganda, Ukraine, United Kingdom and Crown dependencies, Uruguay, Vanuatu, Vatican City, Venezuela, Zambia, and Zimbabwe.
For more detailed information on the requirements for obtaining Dominica Citizenship by Investment, please contact one of our advisers in the UAE, Denmark, or Canada, we will accompany you and your family until you obtain Dominica Passport.
If you have any questions or comments about Dominica Citizenship by Investment, you can share them with us in the comments section.