Cyprus Residence Permit Issued for our Client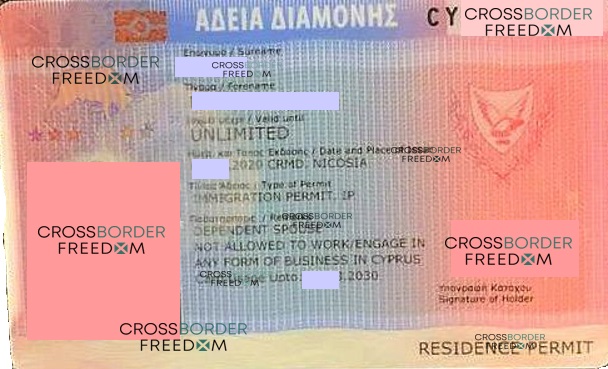 We are honored to declare that one of our clients who applied under Cyprus Citizenship by Investment Program in 2020, could successfully receive his Cyprus Residence. He kindly shared the residence card with us.
He took a trip to Cyprus in 2020 to fulfill the administrative processes and purchase the property. He finally attained the residence permit after submitting his application. Hopefully, his passport will be issued shortly.
Since the establishment of the Cyprus Citizenship Program in 2014, it has become one of the most popular programs, especially in the European Union, as Cyprus offers one of the strongest passports in the world with which not only can you travel to 28 EU member states and the UK, but also you will be eligible to work and have unlimited access to its quality healthcare system.
It is worth mentioning that this program has been suspended for reforms since November 2020 and no new application will be accepted. However, according to the investment news, the program is expected to reopen in the middle of 2021 with new requirements.
Requirements to obtain Cyprus Citizenship and Cyprus Residency
The latest conditions to be met in order to be eligible for the Cyprus Citizenship were the following:
Real Estate investment for a minimum of 2 M Euro and maintain the investment for 5 years,
And
Payment of the Non-refundable Government Donation of 150 000 Euro,
And
Keep/Purchase a Residential Property for a minimum of 500,000 Euro for the lifetime after the first 5 years.
 As mentioned above, the Cyprus citizenship program is now closed, so, if you want to immigrate to Cyprus, currently, the only possible way is to obtain permanent residence in Cyprus by purchasing a property. Applicants are required to purchase a property in Cyprus worth at least € 300,000 with the following conditions:
The Property should be Brand New and purchased from a well-known Developer in Cyprus,
The property should be Residential.
Please note that this country has restrictions for some nationalities, so before deciding to submit your application, be sure to consult with experienced experts of this field.
For more information, please contact one of our advisers in UAE, Denmark or Canada, and we will do our utmost to guide you through your Investment and Cyprus Residency by Investment process.