Did you hear the new news?! Dominica continues to add to its list of visa-free destinations!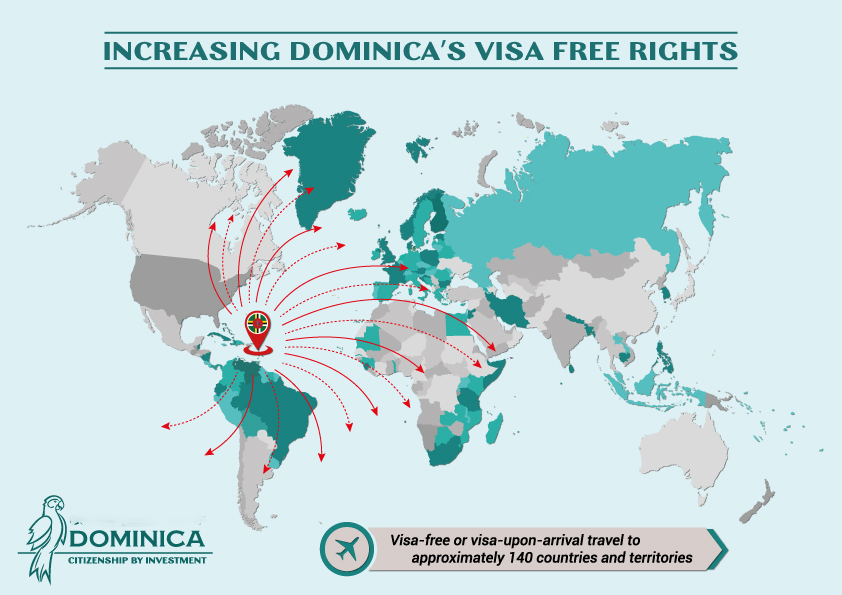 Receiving a second passport by investment means obtaining a reliable passport with which you can travel to important countries in the world without a visa. If you are an international businessman who looks for a strong passport and a fast and hassle-free trip, we have brought good news for you:
Dominica continues to add to its list of visa-free destinations!
Until now, travel without a visa to more than 120 countries have been possible with Dominican Passport, including the United Kingdom, Russia, Hong Kong, and the Schengen state members. Today, China, Brazil, and Azerbaijan have been added to the list!
Keep in mind that citizenship programs in this year have not yet issued a notice of price changes or restrictions for different nationalities, which means that you must apply for a second passport faster before any changes are made.
It is better to act sooner because there is a possibility of changes in the citizenship by investment programs. Every day is essential, with timely action, you will be able to take advantage of the current situation. Our consultants are ready to answer all your questions so that you can get your strong second passport faster.
Dominica's Citizenship is one of the most cost-effective and the fastest programs to achieve a second passport. You can donate the minimum amount of USD100,000 to the government and achieve your Dominican passport.
What are the options to apply for Dominica's Passport?
Dominica Citizenship is sought-after among investors from Middle East who want to distance from political, financial and social instability in their home country.
You can achieve Dominica Passport through below options:
Option 1 – Non Refundable Economic Diversification Fund (EDF)
Donate USD100,000 to the fund for a Single Investor + additional governmental or processing expenses.
Option 2 – Real Estate Investment
Purchase an authorized real estate for the minimum value of USD 200,000 and keep it for 4 years+ additional governmental or processing expenses.
With a Dominican passport, you can travel to countries such as the United Kingdom, the countries of the European Union, and NOW China, Brazil, and Azerbaijan.
For more information, please contact one of our advisors in UAE, Denmark or Canada, and we will do our utmost to guide you through your Dominica Citizenship by Investment process.
Do not hesitate to comment below, if you have any question or experience in this regard.