Invest $ 218,000 in Dominica Unique Project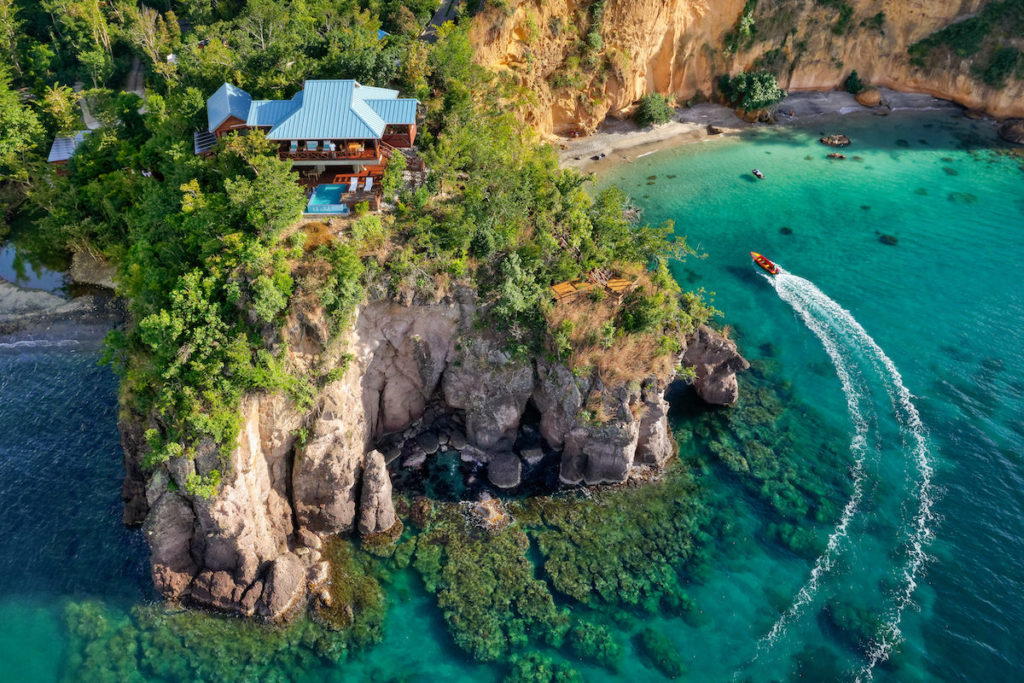 An exceptional investment package is waiting for you!
5-star luxury villas located on a clifftop overlooking the ocean
+
Investment discount
+
A free 7-day trip to stay in luxury hotels with a choice between 90 attractive countries
+
Add $20,000  to your capital!
 How is it possible? Just make smart decisions!
Today we want to introduce you a unique investment project that is a safe and profitable option for discerning investors. Secret Bay is a prestigious well-known project for its tourism appeal and Dominica investment program, ideal for 2nd passport seekers.
Secret Bay is one of the top hotel projects in the Caribbean in 2020. Interested buyers from the Middle East, North Africa, and Asia are the leading investors in this project. Recently American investors have also become involved in the Dominica luxury villa complex. According to Forbes magazine, Americans are now 66% more excited about the Secret Bay project, reflecting the quality of the project and the trust in investment security.
What are the six unique features of the Secret Bay project?
Almost no other country or project can be found with such features to obtain a second passport. The Secret Bay project is in your investment portfolio for a limited time. Let us find out more about its features:
1- Investment and a free luxury trip all at once! If you plan to invest in this project, it shows you are traveling abroad and visiting different countries. Who would refuse an offer of a free one-week trip to world-class hotels? By investing in the Secret Bay project, you can enjoy a week of free travel in a collection of luxury hotels in 90 countries of your choice! You must have visited hotel reservation sites; the cost per night stay in these luxury hotels is at least $ 900! Calculate how much you will save through this investment!
2- Secret Bay located on the green hills of Dominica, with a perfect view of the ocean, forest, or mountains, has attracted tourists' attention. This dynamic project with modern and high-quality equipment has always been recognized as one of the world's top luxury hotels in prestigious tourism magazines.
3- The rate of return on your investment and profit from this investment is guaranteed. In April 2020, the developers of Secret Bay confirmed that they issued the first return on investment checks to people who obtained Citizenship by Investment from Dominica through the residences at Secret Bay. You, too, can secure a two percent return on your investment in the first two years; and for the second three years, the ROI rate will be between three and four percent. You can earn $ 225,000 by the end of the fifth year!
4- This special offer is related to the first phase of this project, where the luxury villas are all built and ready, and you will not need to worry about the construction time and the exact time of the project completion!
5- The developer of this project owns and manages hotels that have successfully operated in Dominica for over 30 years and is considered experienced, well-known, and well-established.
6- Investors can invest in this project with peace of mind since they can transfer the villas after 3-5 years, unlike many other countries, in which the investment must be kept for a lifetime. Therefore, it is possible to resell these modern villas after completing the mandatory period of maintaining the property.
If you are thinking of increasing your capital and getting a valid passport with your money, Dominica passport and a seven-day dream trip are just a few steps away!
Secret Bay Authorized Agent in the Middle East
 If you would like to get in touch with the developers of this project, we are proud to provide you with additional information as an authorized agent of the Secret Bay project in the Middle East.
If you have any questions about this project's features and the conditions for obtaining a Dominica passport, you can talk to our consultants to learn more about this outstanding, profitable, and reliable investment opportunity.
We believe that NOW is a good time to invest in a second passport and enjoy investment discount and a free leisure trip! This exceptional package will not be around for a long time, since there are only 15 available villas left, and accepting this special offer NOW, can have countless positive effects on your business and your family's future.
It is worth noting that Dominica has been ranked as the best country for obtaining a second citizenship for four years.
For more information, please contact our advisors in UAE, Denmark or Canada, and we will do our utmost to guide you through your Dominica Citizenship by Investment process.
  Do not hesitate to comment below, if you have any question or experience in this regard.