Issuance of Dominica Certificate of Naturalization for our Client in March 2021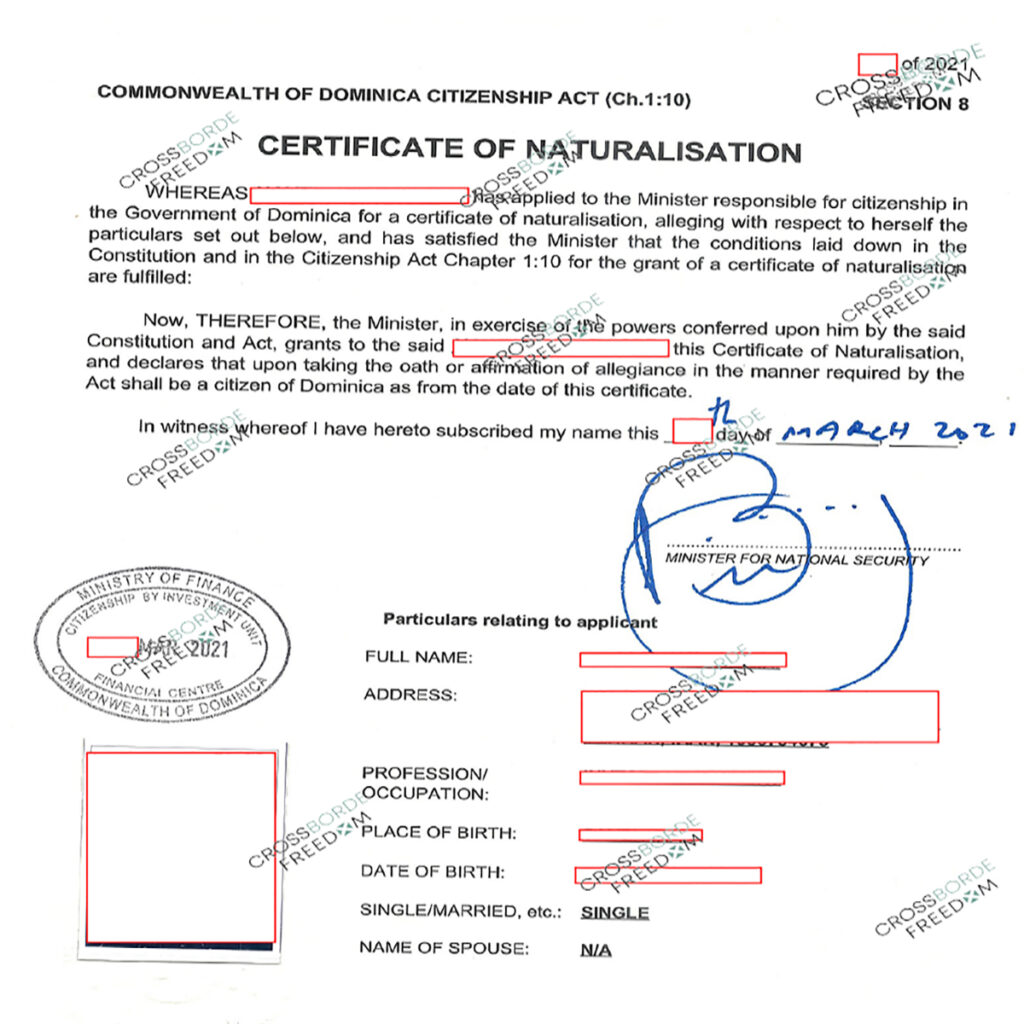 Her application was submitted in the second half of December 2020 under the Dominica Citizenship Program. Her certificate of acceptance was received in February 2021, and her Certificate of Naturalization has been issued in the first week of March 2021.
Dominica is known as the most cost-beneficial investment program among the other CBI options. Dominica Passport provides you with the possibility of traveling to 140 countries on visa-free terms, including almost all of Europe and the UK. Dominica Citizenships Program has several fantastic features that attract considerable attention:
Grant the Citizenship by the Minimum Investment Amount,
Fast Processing time within 4 to 6 months,
Inclusion of all Family Members Under Exclusive Offers at the Time of Application,
Life-time Citizenship,
Dual citizenship is allowed,
And ….
 Investment Options to Obtain Dominica Citizenship & Passport
First choice – Non-Refundable Donation to Economic Diversification Fund (EDF):
100,000 USD – Main applicant.
150,000 USD – Main applicant and Spouse.
175,000 USD – For a family of four.
Second choice – Real Estate Investment:
Purchase an authorized real estate with the minimum value of 220,000 USD and keep it for at least 4 years.
Third choice – Entrepreneur Visa
The Commonwealth of Dominica, announced that "Entrepreneur Visa" will be launching in the coming months. Through Entrepreneur Visa Program the applicant can achieve Dominica Passport by investing a minimum amount of 50,000 USD in an existing government-approved company through the Investment Fund.
To acquire more details on this program, please visit Dominica Citizenship by Investment Program and Dominica investment opportunities pages.
For more information, please contact our advisors in UAE, Denmark or Canada, and we will do our utmost to guide you through your Dominica Citizenship by Investment process.
 Do not hesitate to comment below, if you have any question or experience in this regard.