Why Canada is a Top Choice for International Students?
In recent years, Canada has always been among the world's top 5 destinations for learning. This country has high academic standards and meticulous quality controls, therefore, it will give you the chance to earn a high-quality education that will open doors to a bright future and enable you to achieve your career goals.
A Canadian degree is globally recognized and will help you whether you wish to stay on in Canada or return to your home country. The main reasons of Canada's attraction for the international students are the same liberties which protect Canadians including respect for human rights, equality, and a stable and peaceful society.
We have already introduced the best Canadian cities to study. In this post we want to take a look at statistics of the international students in Canada.
What are the Students' reasons to choose Canada?
These are top five reasons why students name Canada as their country of choice:
High academic rankings
Plenty of job opportunities after graduation
Safe and secure environment
Dynamic life
Natural geographical beauty
The good news is that the Canadian new International Education Strategy plans to diversify the education sector, raise Canada's innovation capacity, develop global ties and ensure that Canada's labor force has the essential skills and talent to compete in global markets.
Canada is often selected as one of the top countries for quality of life and happiness of its citizens, while it has a low crime rate. It proudly hosts some of the very best Universities in the world including University of Toronto, University of McGill and University of British Columbia.
Who chooses Canada to study?
Each year, the students from around the world enroll in a wide variety of institutes and programs at all levels. Currently, more than 50% of Canada's international students come from India and China.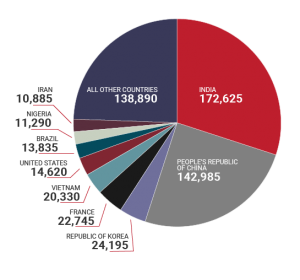 Study permit holders with valid permit as of December 31, 2018 by country of citizenship

Country
India
China
All other Countries
Republic of Korea
France
Vietnam
U.S.
Brazil
Nigeria
Iran
No. Students
172,625
142,985
138,890
24,195
22,745
20,330
14,620
13,835
11,290
10,885
The number of foreign students signed up in Canadian postsecondary institutions has been increasing for two decades. In 2016/2017, international students represented 12.0% of overall enrolments totaled 245,895.
Let's see which provinces the students usually choose to settle: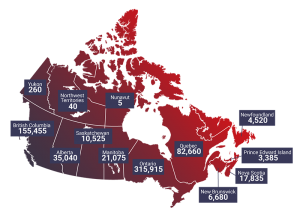 The highlights of these figures are:
There were more than 572,000 foreign students in Canada in 2018.
India and China are driving much of the country's recent enrolment growth.
International students are concentrated in large cities in Canada.
The benefits of Studying in Canada have tempted many foreign students to apply for Canadian Student Visa. Even some of the international students consider this method as the Student immigration to Canada!
Benefits of Studying in Canada
By studying in Canada, the students will:
Study in top-ranked universities and experience high quality educational system,
Live and study in a Safe and friendly environment,
Enjoying beautiful Nature, vast sightseeing and outdoor activities,
Interact with international students and experiencing various cultures,
Have job opportunities while studying,
Have the potential to get Permanent Residency and Citizenship of the country.
Do you know that the international students with Canadian degrees and work experience may apply for permanent residency without having to leave Canada?
If you wish to acquire Canadian Residency or you plan to study in Canada, please contact one of our advisors in UAE, Denmark or Canada, and we will do our outmost to guide you through your Canadian Student Visa process and find you the best option.
Please feel free to relay your comments if you have any questions about Canada Student Visa or Residency after graduation.