Alberta PNP, targets Agribusiness Managers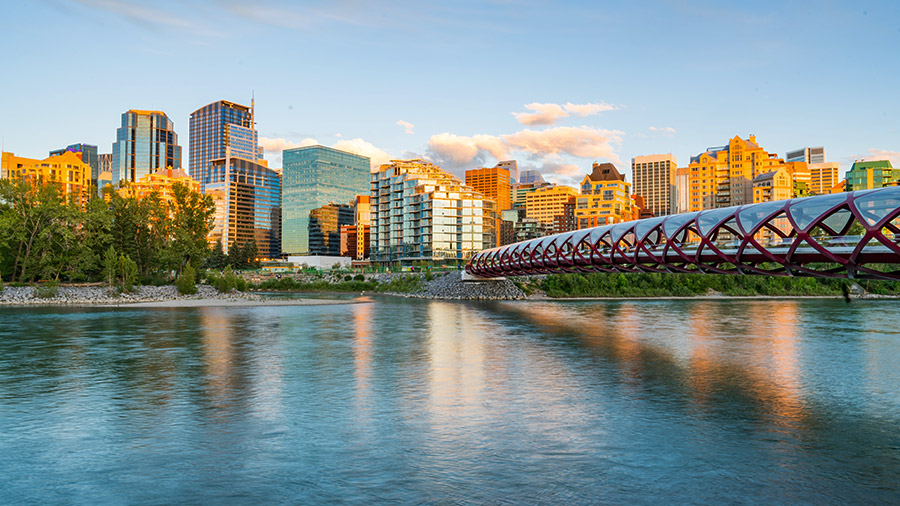 Canada is one of the world's top ten trading nations. It has been placed at top ranked immigration destinations due to its appealing features such as high job opportunities, strong economy, low unemployment rate and profitable investment options.
Canada is offering various immigration streams for skilled investors and talented individuals. Each province is offering its own attractive provincial programs.
In this post, we are going to elaborate Alberta's PNP.
Alberta
Alberta located in the west part of Canada, is the fourth most populous, and the fourth-largest province after Quebec, Ontario and British Columbia. Alberta's capital is Edmonton, and its largest city is Calgary. Alberta is the largest producer of crude oil and natural gas in Canada.
It is the world's second-largest exporter of natural gas and the fourth-largest producer. Red Deer and Edmonton are among the global producers and exporters of polyethylene & vinyl. Alberta's economy is based on petroleum industry and to a lesser extent, agriculture and technology.
Alberta Provincial nomination comprise of following 3 streams:
Alberta Opportunity Stream– This category is for individuals who are on temporary foreign worker visa and holding a temporary resident status that authorizes them to work in Canada. They should work in an eligible occupation in Alberta or have an occupation matching their previous work experience. Providing an official test result of English or French is obligatory and the minimum education certificate is high school diploma in the country of origin.
Alberta Express Entry Stream– This program is suitable for applicants whose occupations support Alberta's economic development. To be considered for nomination, the applicant must have an active EE profile, meet the criteria of at least one of the federal immigration programs and have a minimum CRS score of 300.
Self-employed Farmer Stream– It is an attractive stream for applicants with proven farm management skills, a business plan and financial resources for the farming enterprise in Alberta. Applicants to this stream must meet the following criteria.

Proof of farm management skills

Financial documentation of an existing farm business,
Documentation of education, training and work experience,
A detailed business plan for the farming enterprise that the applicant is considering in Alberta,
Proof that a Canadian financial institution is intending to finance the proposed farming business.

Sufficient financial resources:

Applicants must be able to invest a minimum of CDN $500,000 of equity in a primary production farming business in Alberta.
Applicants must show a minimum net worth of CDN $500,000 or confirmation of the ability to access to a similar amount of funds.

Primary production investment:

Applicants must document their investment plans in a proposed business plan.
Applications representing the best opportunity for growth relevant to Alberta's agri-food targets, will be given priority.
Alberta Agricultural Statistics
In 2018, Alberta exports of primary and processed agricultural and food products reached a record of $11.6 billion. 19% of the Canadian agri-food exports belong to Alberta.
The main value-added exported products are crude canola oil, oilseed cake and meal, beef, processed potatoes, and prepared cereals. Exports of beef, the largest value-added product, were 17.5% higher in value and 8.1% in quantity.
The United States continues to be Alberta's largest market, accounting for 37.5% of total agri-food exports. China (22.6%), Japan (11%) and Mexico (4.8%) are the next top destinations.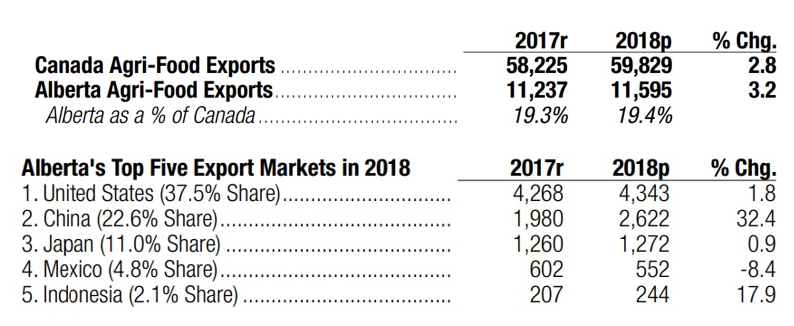 People from Asia and Africa get immigrated to Canada in search of better quality of life with bright career prospects.
If you wish to take advantage from Canadian economic growth and social welfare, please contact one of our advisors in UAE, Iran, Denmark or Canada, and we will do our outmost to guide you through your Canadian immigration by investment process.
Please feel free to relay your comments if you have any questions about Canada residency or business immigration.
Suggested Articles
Saskatchewan Provincial Nominee Program
Quebec Immigrant Investor Program, Suspended Till Summer 2020
Alberta PNP, targets Agribusiness Managers
Canada, a Wise Choice to Expand Business and Live
Canada Start-up Visa for Innovative Entrepreneurs
What are the best Canadian cities to study?