Montenegro, a Great Opportunity for Investment and Citizenship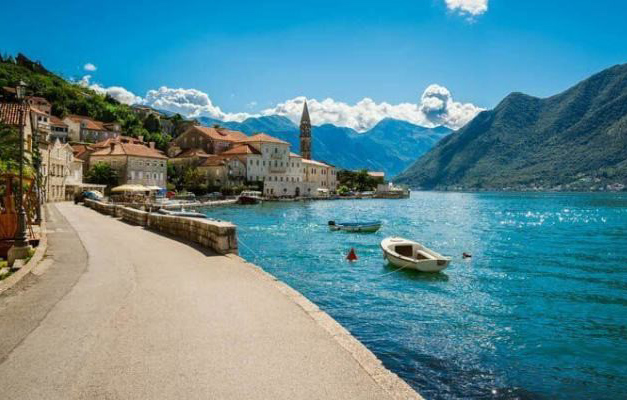 Montenegro, a Great Opportunity for Investment and Citizenship
Montenegro, a country in Southeast Europe, lies on the Balkan Peninsula. It has adopted euro as its local currency. Montenegro joined the World Bank and IMF in January 2007 and the WTO in December 2011. Montenegro has been accepted as a NATO member starting 5 June 2017.
Montenegro's investment  per capita is one of the highest in Europe. The net foreign direct investment in Montenegro in 2017 reached $848 million because of the low corporate tax rate.
The most significant foreign investors in Montenegro in 2017 were Norway, Russia, Italy, Azerbaijan and Hungary.
According to the World Bank 2018 annual ratings, this country is ranked 50th among 190 other economies in the ease of doing business ratings. As a strategic plan for its further development, Montenegro has considered a number of attractive incentives. For example, a newly established legal entity does not pay corporate income tax for the first eight years of operation, if it has been located in economically underdeveloped municipalities.
Some sectors are excluded from these exemptions, including the sector of primary production of agricultural products, transport, fisheries and steel production. It is also worth noting that the tax relief is applicable only if the total amount of taxes does not exceed the amount of €200,000 for the first eight years of operation.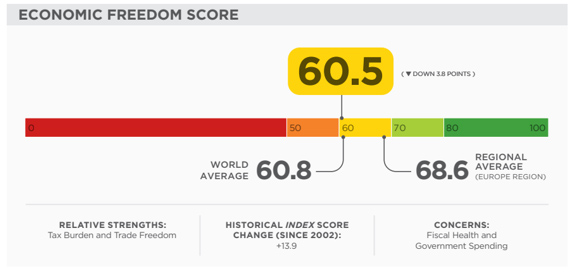 Montenegro's economic freedom score is 60.5 in the 2019 Index.
It indicates economic freedom based on 12 quantitative and qualitative factors, grouped into four broad categories of economic freedom:
Rule of Law (property rights, government integrity, judicial effectiveness)

Government Size (government spending, tax burden, fiscal health)

Regulatory Efficiency (business freedom, labor freedom, monetary freedom)

Open Markets (trade freedom, investment freedom, financial freedom)
Given the country's position, Montenegro is a good destination for investors who want to invest in a country close to the Schengen zone.
Montenegro Citizenship by Investment Program is officially announced on Oct 1, 2018 for foreign investors. The decision came into force on Jan 1, 2019 and will apply until Dec 31, 2021. It will run for three years offering investment citizenship to 2000 foreign investors.
Therefore, this program is a great opportunity to obtain a passport of a country which joins the Schengen soon so that the Montenegro passport holders will enjoy the benefits of being a European citizen.
This citizenship program will include a Grant (EUR 100,000) plus Investment (Min of EUR 250,000). This means applicants must donate a grant to government and also invest in authorized development projects (hotels, resorts, IT parks, commercial real estate) that create jobs and development of Montenegro.
Some of the benefits of Montenegro Citizenship by Investment Program are:
No language test required,

No business experience required,

No military service required,

Montenegro allows holding dual citizenship and does not requires relinquishing previous citizenships under the new economic citizenship scheme,

Free movement in EU countries and Schengen area.
INVESTMENT OPTIONS:
Invest EUR 250,000 in some of the development projects previously approved by the Government in an undeveloped area of Montenegro.
or
Invest EUR 450,000 in some of the development projects previously approved by the Government in the developed area of Montenegro.
And
Payment of a Non Refundable Donation of EUR 100,000 is needed.
Government, Due Diligence and Passport fees start form EUR 50,000 depends on the size of the application.
Montenegro has the 34th powerful passport in the world, according to latest HPI Index 2018. Montenegrin passport has 121 visa free travel destinations includingEurope, Russia, Israel, Turkey, United Arab Emirates (UAE), South Korea and Brazil. Montenegro expected to join EU in 2023 and currently a candidate country for the membership.
The Human Freedom Index (HFI), on a scale of 0 to 10, where 10 represents more freedom, shows a broad measure of human freedom rating for 162 coun­tries in 2016. It depended on research and discussions held in Europe and North America involving scholars from many countries. Among 162 countries of this research, Iran ranked 153, while Montenegro has achieved an acceptable rank of 52.

As a conclusion, Montenegro is becoming the next country in Europe to attract many investors and applicants who are interested in both investment and second citizenship advantages.
For more information, please contact one of our advisors in UAE, Iran, Denmark or Canada, and we will do our outmost to guide you through your Investment and Montenegro Citizenship process.
Suggested Articles
Montenegro Citizenship by Investment (CBI) Program
Good News! Montenegro CIP Is Going to Approve More Projects!
Montenegro Authorized Investment Project at The Top of The List!
Montenegro CIP Begins to Receive Applications!
Montenegro Citizenship by Investment presents Fresh New Options
Montenegro, a Great Opportunity for Investment and Citizenship