Greece Golden Visa & Cyprus CIP Are Competing Closely
In today's CIP market and the increasing demand for a second passport, the European countries are very popular, since they are located in the heart of the world's business and commercial hub. The two most in demand investment programs are Cyprus CIP and Greece residency scheme.
Cyprus Citizenship Program
Cyprus CIP has several changes this year, including the addition of a EUR 150,000 donation requirement, but investors still have picked up some EUR 1.1 billion in (mostly) real estate assets so far this year, it means about EUR 28 million a week, in 2019!
The official figures indicate 550 investors have achieved approvals for their CIP applications since the beginning of 2019, a number near the record of 2018, which accepted 581 main applicants.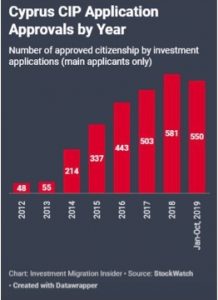 There are various investment options to obtain Cyprus Citizenship:
Real Estate investment for a minimum of 2M Euro, maintain the investment for 5 years and payment of the Non Refundable Government Donation of EUR150, 000 and keep/Purchase a Residential Property for a minimum of 500,000 Euro for the lifetime after the first 5 years.
Purchase, Establishment or Participation in any Cypriot Businesses or company,
Investment in AIFs or in the organizations which are licensed by the Securities and Exchange Commission,
Investment in the shipping industry.
Greece Golden Visa
By the end of the first half of 2019, the number of approved Golden Visa applications had already reached 1,266 – 76% of the 2018 total. So, the program can expect to have nearly 2500 approvals by the end of 2019, and it means the program may raise more than 600 million euros for the first time.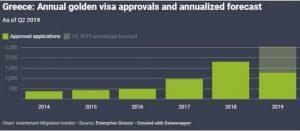 While in Greece immigration offices in capital are referring the applications to the regional offices due to high volume of demands. Right now, investors buy real estate in the municipalities of Athens, Piraeus, or Pallini.
Greece has also presented new payment option for Residence by Investment Program which is Credit Card. The use of POS acts as an attractive way to absorb specifically Chinese investors.
The only option to acquire Greece residency is: Investment in Real Estate at minimum value of €250,000, and maintain the investment for a minimum of 5 years.
As per the unconfirmed reports in August, the Greece government plans to launch a citizenship by investment program in near future.
For more information, and to decide about the best investment program that suits you best, please contact one of our advisors in UAE,  Denmark or Canada, and we will do our outmost to guide you through your Cyprus CIP investment or Greece Golden Visa process.
Please feel free to relay your comment below, if you have any questions about Cyprus and Greece investment programs.
Suggested Articles
Greece Golden Visa & Cyprus CIP Are Competing Closely
Cyprus Passport Issued for our Iranian Client
Reasons of Cyprus Popularity for Investment and Business
Studying in Cyprus, Guarantees Your Professional and Educational Future
Amazing Cyprus CBI Program Statistics
Cyprus Passport, A Precious and Forever Asset
Cyprus Citizenship by Investment (CBI) Program